40th Anniversary of the Falklands Conflict - The Helicopters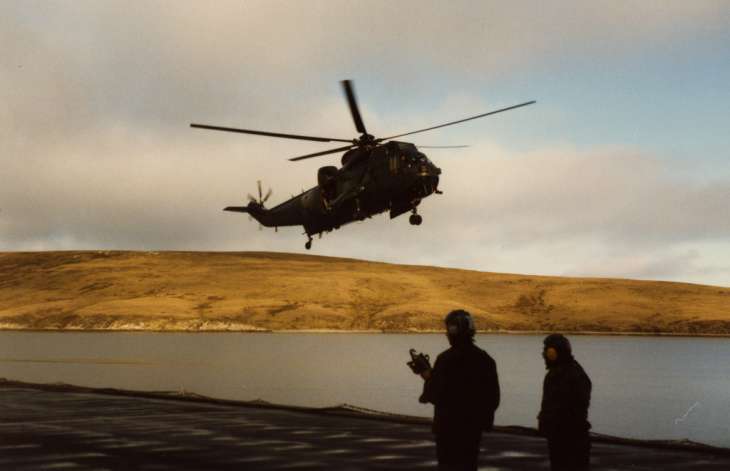 2022 is the 40th anniversary of the Falklands Conflict. Following the Argentine occupation of the Falkland Islands, on 2nd April 1982, the United Kingdom swiftly despatched a task force to recover the islands, 8000 miles away in the South Atlantic. British helicopters played an important part in the ensuing conflict with their anti-submarine warfare (ASW) equipment and their ability to attack surface ships, while other helicopters could provide close support to land forces. Probably the most important role, played by the British helicopters, was the provision of ship-to-ship and ship-to-shore transport, for troops and their supplies. This included the evacuation of casualties. The Argentine Army also used helicopters extensively, some being fitted with rocket launchers or machine guns, but their operations, in the Falklands area, were limited to transport and liaison missions.
On 3rd April an Argentine Army SA330L Puma, AE504, and an Aerospatiale Alouette III, from the polar research vessel 'Bahia Paraiso', were used to land Argentine troops at Grytviken on the British Dependency of South Georgia, administered from the Falkland Islands but 1300km to the south-east. A unit from the British garrison of 22 Royal Marines brought down the Puma and damaged the Alouette, with small-arms fire. The British Marines, eventually forced to surrender, were evacuated to an Argentine ship and were soon repatriated to the UK.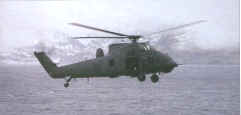 Two weeks later, on 21st April, a force of British ships, including HMS Antrim and RFA Tidepool, joined HMS Endurance off South Georgia. An unwise decision to land sixteen SAS men on the Fortuna Glacier, using two Westland Wessex HU.5s, XT464 and XT473, from RFA Tidepool, led by Antrim's radar-equipped Wessex HAS.3, XP142, was followed by a call, on the following day, for their premature evacuation by the three helicopters, in the face of treacherous weather
Blizzard conditions during the evacuation caused both loaded Wessex HU.5s to crash on the glacier, fortunately without serious injuries. The Wessex 3 had to fly back to HMS Antrim, with its passengers, but it returned when the weather improved slightly, three hours later. All fourteen of the remaining aircrew and SAS men were then rescued from the glacier. Fortunately most of XP142's dipping sonar equipment had been removed from the cabin into storage, during Antrim's journey south from Ascension, to reduce weight and increase space.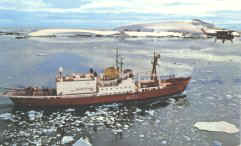 On 25th April the submarine Santa Fe, which had been ferrying Argentine marines and supplies onto South Georgia, was attacked by two Westland Wasps HAS.1, XS527 and XS539, from HMS Endurance. They were followed by Antrim Flight's Westland Wessex HAS.3, XP142, a Wasp HAS.1, XT429, from HMS Plymouth and two Westland Lynx HAS.2s, XZ725 and XZ729, from HMS Brilliant. Although they inflicted significant damage, using depth charges, machine-gun fire, torpedoes and AS.12 missiles, Santa Fe was able to land its passengers and crew at Grytviken's jetty, before being beached in the harbour.
Three hours later an assault on South Georgia itself was launched, using Antrim's Wessex HAS.3 and Brilliant's two Lynx HAS.2s, to land seventy-five troops on the shore opposite Grytviken. Meanwhile Antrim and Plymouth bombarded the area around the Argentine positions. A gunnery officer, ferried in by helicopter to a mountain vantage point above the settlements, directed the barrage. It was late afternoon before the British troops started to approach the Argentine defences. At this point white flags began to appear and the garrison surrendered without loss of life on either side.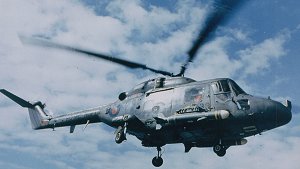 The Task Force mounted constant helicopter anti-submarine (ASW) and surface patrols, in all weather conditions, from the time it left Ascension on 16th April. Westland Sea King HAS.5s and Westland Lynx HAS.2s were used, equipped with advanced dipping sonar equipment.

Soon after midnight on 3rd May two Argentine patrol ships, operating inside the Total Exclusion Zone (TEZ) around the Falklands, were reported to have opened fire on a 826 Squadron Sea King HAS.5, ZA129, which was flying low, on ASW patrol duties.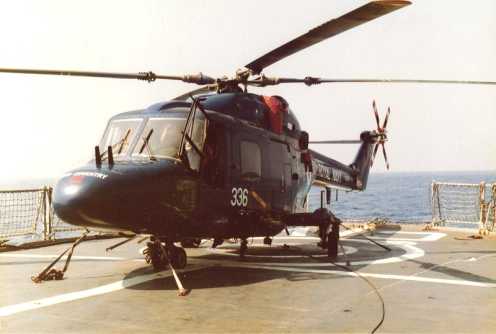 The Sea King called in 815 Squadron Lynx HAS.2s from HMS Coventry (XZ242) and HMS Glasgow (XZ247), each of which was armed with two new, unproven, Sea Skua missiles. The two Lynx, using their radar, released their missiles, causing one ship to disappear immediately and the other, 'Alferez Sobral', to have its bridge structure severely damaged. The captain and six seamen were killed. This episode marked the first use of sea-skimming missiles in the conflict.

Later investigation indicated that there was probably only one ship, which, having sailed from Stanley to search for the crew of an Argentine Grupo 2 Canberra, shot down two days earlier, was attacked by both Lynx. Another dangerous task, carried out by Sea Kings, was to act as decoys, to deflect sea-skimming missiles away from surface ships. This tactic was sometimes combined with the dumping of chaff ('window') to provide an alternative radar target for missiles.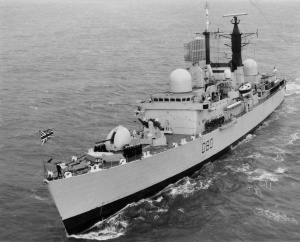 On 4th May 1982 Type 42 destroyer HMS Sheffield, tasked to protect the carriers 'Hermes' and 'Invincible', was hit by an Exocet missile launched from an Argentine Super Étendard. Although Sea Kings stood by and delivered breathing apparatus and several sets of fire-fighting equipment, fires could not be contained, Sheffield's magazines were threatened and the order to abandon ship was given five hours after the attack. Most of her crew made their way onto HMS Yarmouth alongside and the injured were evacuated in ASW Sea Kings, but 20 of her crew were killed by the initial missile impact and subsequent propellant fires.

After the attack on 'Sheffield' it was thought that the threat to the task force, from air-launched Exocet missiles, could only be reduced by an attack on the Super Étendard base on the Argentine mainland.
On 14th/15th May, three 846 Squadron Sea King HC4s from HMS Hermes, flying at night with newly-acquired Night Vision Goggles (NVGs), had taken SAS and SBS teams to Pebble Island where they destroyed eleven enemy aircraft, Pucaras, Turbo Mentors and a Short Skyvan, on the ground. Others carried out raids in the Darwin and Goose Green areas. Short-term SAS observation posts were inserted, by Sea Kings and Wessex HU.5s, on the mountains and coasts behind Stanley.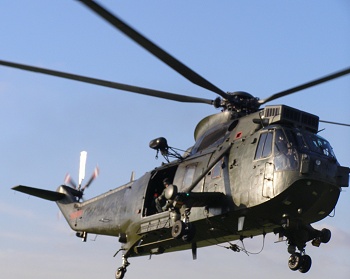 The success of the Pebble Island operations revived British thoughts of a Special Forces mission on the Argentine mainland, designed to destroy the Exocet missiles and the Super É>tendards. Various options were considered and early on 18th May a stripped-down 846 Squadron Sea King HC4 left 'Invincible' on a preliminary reconnaissance mission, code-named 'Operation Plum Duff', carrying a small SAS force who were tasked with observation of the Rio Grande air base and sending back information on the defences. Their Sea King, ZA290, only carried enough fuel to reach the mainland so the aircrew were well aware that that it was a one-way trip for them.
The Sea King reached the Argentine coast without any interference but was forced to take a diversion after sighting offshore oil rigs which were not shown on their charts. Seven miles short of the planned drop-off point they ran into thick fog which had not been forecast. With fuel now dangerously low and having been detected by Argentine ground radar, they chose to head for Chilean territory where they landed a few kilometers over the border, near Punta Arenas. The SAS patrol moved off towards Argentina while the crew attempted to destroy the Sea King by setting it on fire. After a few days of evading capture the aircrew gave themselves up to the Chilean authorities and were deported back to the UK. The SAS mission was soon cancelled and the patrol was evacuated from the coast by a British submarine.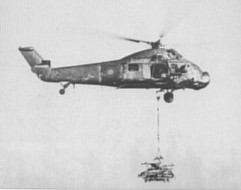 It was not until 21st May that the British landings on East Falkland took place, supported by eleven of 846 Naval Air Squadron's Sea King HC4s and five of 845 Squadron's Wessex HU.5s. The prime role of the larger helicopters was the landing, and moving forward, of Rapier missile systems, fuel, artillery and ammunition. Wasp and Lynx helicopters, from some of the frigates, patrolled the coastal inlets, near to San Carlos, looking for concealed Argentine vessels.
Later on 21st May two Royal Marines Westland Gazelle AH.1s, XX402 and XX411,which were escorting 846 NAS supply Sea King HC4s, were shot down, near Port San Carlos, by small arms fire from retreating Argentine troops, and a third, XX412, was badly damaged. From then on most shore-based light helicopters were confined to casualty evacuation and support roles, to minimise contact with the enemy.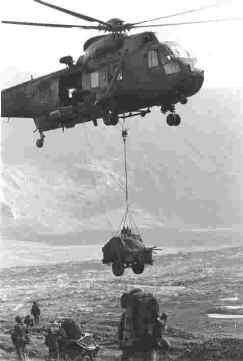 On 25th May, four days after the 3rd Commando Brigade landings at San Carlos, Argentine A-4 Skyhawks bombed and sank the Type 42 destroyer, HMS Coventry, after a day of relentless air attacks. Fourteen Sea Kings, from 846 and 826 Squadron on HMS Hermes, rescued more than 60 of the 283 survivors, flying them to nearby ships. Others were rescued by small boats from HMS Broadsword.

While the rescues from HMS Coventry were still proceeding, the container ship 'Atlantic Conveyor' was hit by an Argentine Exocet missile, launched from a Super Etendard and probably intended for the aircraft carrier, HMS Invincible. 'Conveyor' was soon burning fiercely. A Wessex HU.5, XT468 and three No.826 Squadron Sea Kings, from HMS Hermes, rescued 13 of the ship's company. Others were taken off by accompanying frigates. Twelve men died including 'Conveyor's' master, Ian North. The ship's cargo had included six Wessex HU.5s, of No. 848 Squadron, one Lynx HAS.2, XZ700, of 815 NAS and four RAF Chinook HC.1s.
Fortunately one Chinook HC.1, ZA718/BN, and one 845 Squadron Wessex HU.5, XT468, were already airborne, when 'Conveyor' was hit, but the Lynx, the remaining three Chinooks and all six of 848 Squadron's Wessex HU.5s, with their vital spares and maintenance equipment, were reduced to burning wreckage. It had been planned that all four RAF Chinooks from 'Atlantic Conveyor' would aid the advance of British troops, soon including 5 Infantry Brigade, comprising Scots Guards, Welsh Guards and Gurkhas, from San Carlos towards Stanley but, with only ZA718 remaining, heavy equipment was given priority and most of the troops had to walk up to fifty miles before the hardest fighting began.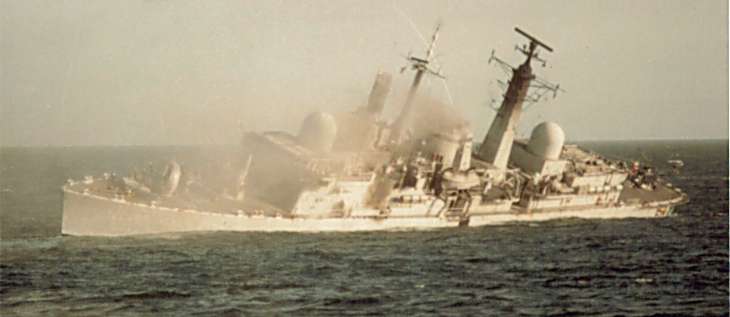 HMS Coventry, after listing to port, overturned and sank twenty minutes after being hit by three 1000lb bombs from Argentine A-4 Skyhawks on 25th May. Twenty lives were lost. Her Lynx HAS.2, XZ242, was still lashed to the deck, with a live Sea Skua missile on its port pylon. Thanks to Steve Hale for the photograph.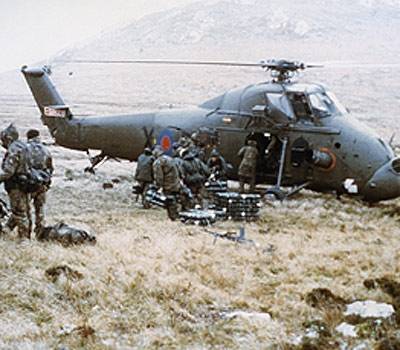 On 29th May the Cunard container ship 'Atlantic Causeway' entered the Total Exclusion Zone (TEZ), bringing twenty 847 Squadron Wessex HU.5s and eight 825 Squadron Sea King HAS.2As to reinforce those already based at the bridgehead around San Carlos.
Four of the radar-equipped Sea Kings were flown off immediately to refuel on 'Hermes' before heading to East Falkland but 'Causeway' didn't enter San Carlos Water until 1st June. Twelve Wessex HU.5s and the remaining Sea Kings were then hastily disembarked so that 'Causeway', with eight Wessex still aboard as reserves, could be withdrawn to safety as soon as possible.
The increased number of helicopters now available were still tasked, primarily, with building up beachead supplies but, as troops began to move out towards Stanley and Goose Green, transport of supporting heavy guns and ammunition became a priority.
An attempt to bring troops forward by sea ended in tragedy, on 8th June, with the bombing of 'Sir Galahad' and 'Sir Tristram', near Fitzroy. Heroic winchmen and pilots of four Sea Kings and one Wessex HU.5, flew into the dense, stifling, smoke around 'Sir Galahad', risking flames and exploding ammunition, to lift men from the deck and the sea. Others used their rotor downdraft to push inflatable liferafts away from the ship, which was surrounded by patches of burning oil. Many of 656 Squadron's Westland Scout AH.1s and Gazelle AH.1s flew casualties from the shore to the hospital ship 'Uganda' and to the field hospital at Ajax Bay. Fifty men died on the 'Sir Galahad' and three on 'Sir Tristram'. Thirty-nine of these were Welsh Guardsmen. Many more were wounded, almost all of them badly burned.
On 11th June the British troops mounted a brigade sized night attack on Argentine positions in the mountains surrounding Stanley and three days later, after more heavy fighting, the Argentine garrison surrendered.
What to see at The Helicopter Museum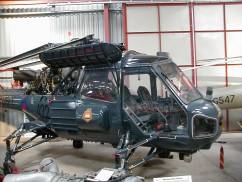 Westland Wasp HAS.1, XT443, which was built in Hayes, in 1966, as a light anti-submarine helicopter. It as assigned to HMS Aurora at the start of the Falklands conflict and, although it did not go to the South Atlantic, it is very representative of those Wasps that did go.
829 Naval Air Squadron Flights deployed a total of ten Wasps to the Falkland Islands. A further four arrived after the 14th June surrender. Restoration of XT443 started in 1998 and was completed in 2001. It remains on public display. Restoration and history
---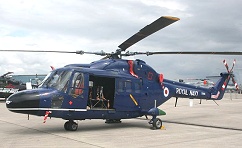 Westland Lynx HAS.2, XX910, which first flew in 1974 as a light anti-submarine helicopter to replace the Westland Wasp. It was the third HAS.2 pre-production prototype. A&AEE, Boscombe Down, are believed to have used XX910 for trials of navigation equipment, but it never entered service.
It was by RNAS Yeovilton volunteers in 2011, using a discarded tail boom from the Danish Navy Lynx S-142. The Royal Navy sent twenty-three Lynx HAS.2 helicopters to the South Atlantic in 1982. Restoration and history
---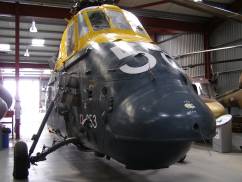 Westland Wessex HAS.3, XM328, built in Yeovil in 1963 as a Mk.1 and converted to Mk.3 specification in 1966. HAS.3s were comprehensively equipped for anti-submarine warfare, and, late in its life, XM328 went to the South Atlantic, in place of the damaged XP142, on HMS Antrim's second assignment to the Falklands, in July 1982.
XM328 has recently been meticulously restored by Museum volunteers and was returned to public display in January 2017. It shows the winch, a sonar array, and other equipment, and a video about the Falklands. Restoration and history
---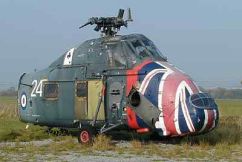 Westland Wessex HU.5, XS486, currently awaiting restoration, embarked on RFA Regent on 19th April 1982 and sailed to the South Atlantic, arriving on 21st May. With many other HU.5s, XS486 was engaged in moving men and supplies from ship to ship and ship to shore, in the war zone.

A total of around fifty-five HU.5s went to the South Atlantic, though a few of these, sent as replacements, did not arrive until after the end of hostilities.
---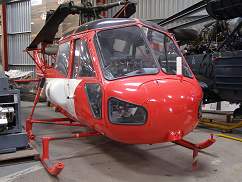 Westland Scout AH.1, XP165, which was a pre-production prototype, built at Eastleigh in 1960. It is displayed in a later Empire Test Pilots School scheme having been based at Farnborough from 1964, after four years as a trials machine. Although it has never seen action, this Scout gives a good impression of the basic configuration of a serving example in 1982.
Twelve Scout AH.1s were used, by 656 Squadron of the Army Air Corps and the Commando Brigade Air Squadron, during the Falklands conflict, as light transports, as Nord SS-11 anti-tank missile launch platforms and for casualty evacuation.
---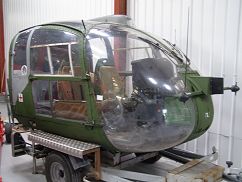 The cabin section of an Aerospatiale SA341B Gazelle AH.1, ZB686, which was built at Westland's factory in Weston-super-Mare in 1983. It was delivered to the Army Air Corps in Northern Ireland in August 1985, for communication and observation duties.
In February 2002 the cabin section was separated and taken to Middle Wallop where it was mounted on a wheeled platform for use as a mobile exhibit to promote the "Blue Eagles" helicopter aerobatic team. It was acquired by The Helicopter Museum in 2010 and makes occasional public appearances at events in and around the Museum. Fifteen Gazelle AH.1s were sent to the South Atlantic in 1982.
---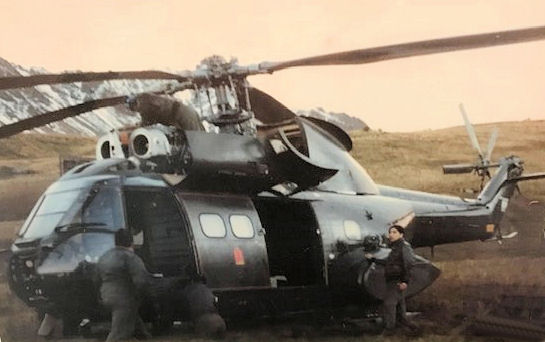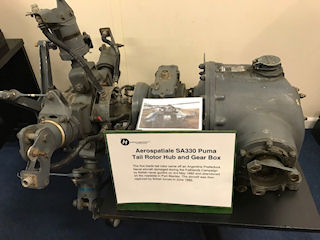 In the Interactive area you can see a tail-rotor hub and gear box from an Argentine Prefectura (Coast Guard) SA330 Puma Helicopter that was damaged by British naval gunfire during the Falklands War.
The helicopter was abandoned on the road to Port Stanley and captured by British forces in June 1982. This is one of the parts that were stripped off and shipped back to the UK as spares for RAF Pumas.
---