Opening Hours
Monday: CLOSED
Tuesday: CLOSED
Wednesday: 10.00am - 4.30pm
Thursday: 10.00am - 4.30pm
Friday: 10.00am - 4.30pm
Saturday: 10.00am - 4.30pm
Sunday: 10.00am - 4.30pm

The museum is a mobility friendly attraction with all parts of the museum fully wheelchair accessible with ramps where required. A wheelchair is available for visitor use please ask a member of staff at the entrance desk who will be able to assist.
A carer is eligible to entry on a concessionary ticket to accompany mobility restricted visitors.
Admission Charges
Adults - £13.00
Children (4-15) - £6.00
Senior/Concession - £11.00
Family (2 Adults & 2 Children) - £30.00
Family (2 Adults & 3 Children) - £32.00
Address: The Helicopter Museum, Locking Moor Road, Weston-super-Mare, BS24 8PP, England.
Phone: 01934-635227
Only Guide Dogs and Assistance Dogs are allowed inside the museum or café. No other dogs are permitted on site. Proof of Assistance Dog Status will be required if the dog is not wearing its official harness or jacket.
How to find us
By Road: We are 5 minutes drive from Junction 21 on the M5 Motorway. Follow the A370 towards Weston-super-Mare and then signs to A371 and The Helicopter Museum.
Parking: Parking at the museum is free of charge with ample car parking spaces.
There are allocated parking spaces for Registered disabled visitors by the entrance and ramp access from the car park into the museum.
Parking for coaches is available but we would ask coach drivers to contact the museum in advance of arrival to ensure a space is available.
By Train: Weston-super-Mare railway station is 10 minutes away by bus or taxi.
By Bus: First Bus run a bus service from the town that stops outside the museum on Locking Moor Road. Please follow the link to check the bus timetable
By Cycle: Weston-super-Mare has an extensive cycle path system in place one of which passes the entrance to the museum.
By Air: Pilots Information
Hotels: The Travelodge, Weston-super-Mare, is a few minutes walk from the Museum.
About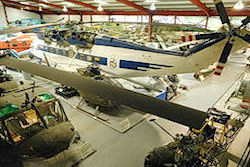 The Helicopter Museum is the largest dedicated Helicopter Collection in the world with the over 80 exhibits on display in an all weather undercover hangar. The collection covers civilian and military operators highlighting the many technological developments over the years and illustrating the range of helicopters in use. A number of autogyros, an engine bay, video displays and other related exhibits illustrate the many uses helicopters play in our everyday lives.
Come and discover the stories our exhibits have to tell, from the Queen's Flight helicopter, the Westland Lynx that still holds the helicopter world speed record of 249mph in 1986, the Huey that supported American troops during North Vietnam's Tet offensive in 1968 and the first Gulf War in 1991 or the Belgian Antarctic research Bell 47H with its badge designed by Hergé of Tintin fame.
The museum is spread over a single floor with aircraft displayed in four main buildings plus a shop and café. Please ask a member of staff if you would like more information regarding the layout of the museum and a printed guide is available to purchase from the shop.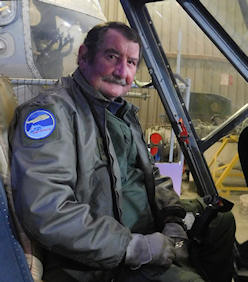 Our volunteer Guides are available most days to explain about the helicopters and answer your questions.
The museum has easily accessible male and female toilets which includes baby changing facilities and there is also a pull chord emergency alarm. The washroom facilities are regularly cleaned and sanitised.
We would ask that all children are accompanied and supervised by an adult at all times and ask that children do not run around unsupervised as they may injure themselves.
Work on the helicopters in the museums collection is carried out by volunteers in the conservation area which is viewable during your visit.
Photography is allowed but the use of tripods is prohibited and all images must be solely for private and personal use. Please stay within the defined visitor route when taking photographs.
Café Runway 25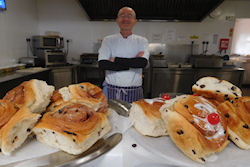 Our fully serviced café is open during normal museum opening hours serving a selection of pastries, sandwiches, hot and cold meals, drinks, snacks and ice creams. Non museum visitors can also access the cafe for refreshments.
It has plenty of tables to suit large or small groups. There is also seating outside on The Achilles Terrace.
Please note that only food purchased from the café is to be eaten in the café.
There is a picnic area, benches and a children's play area by the Weston Aviation Exhibition.
HeliWorld Gift Shop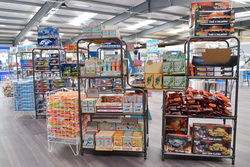 Our gift shop in the entrance area has a wide selection of souvenirs from a range of books, models, prints, gifts, clothes, toys and pocket-money souvenirs to suit any budget.
We have items for all ages from the young kids to adults.
Variations on the aviation theme: from mugs, videos, seat cushions and T-shirts to a range of kits and model replicas of the most popular of the museum's helicopters.
There are also bargains to be found on the nearly new book sales section.
Museum Map
Note: The layout is subject to change with new displays and arangements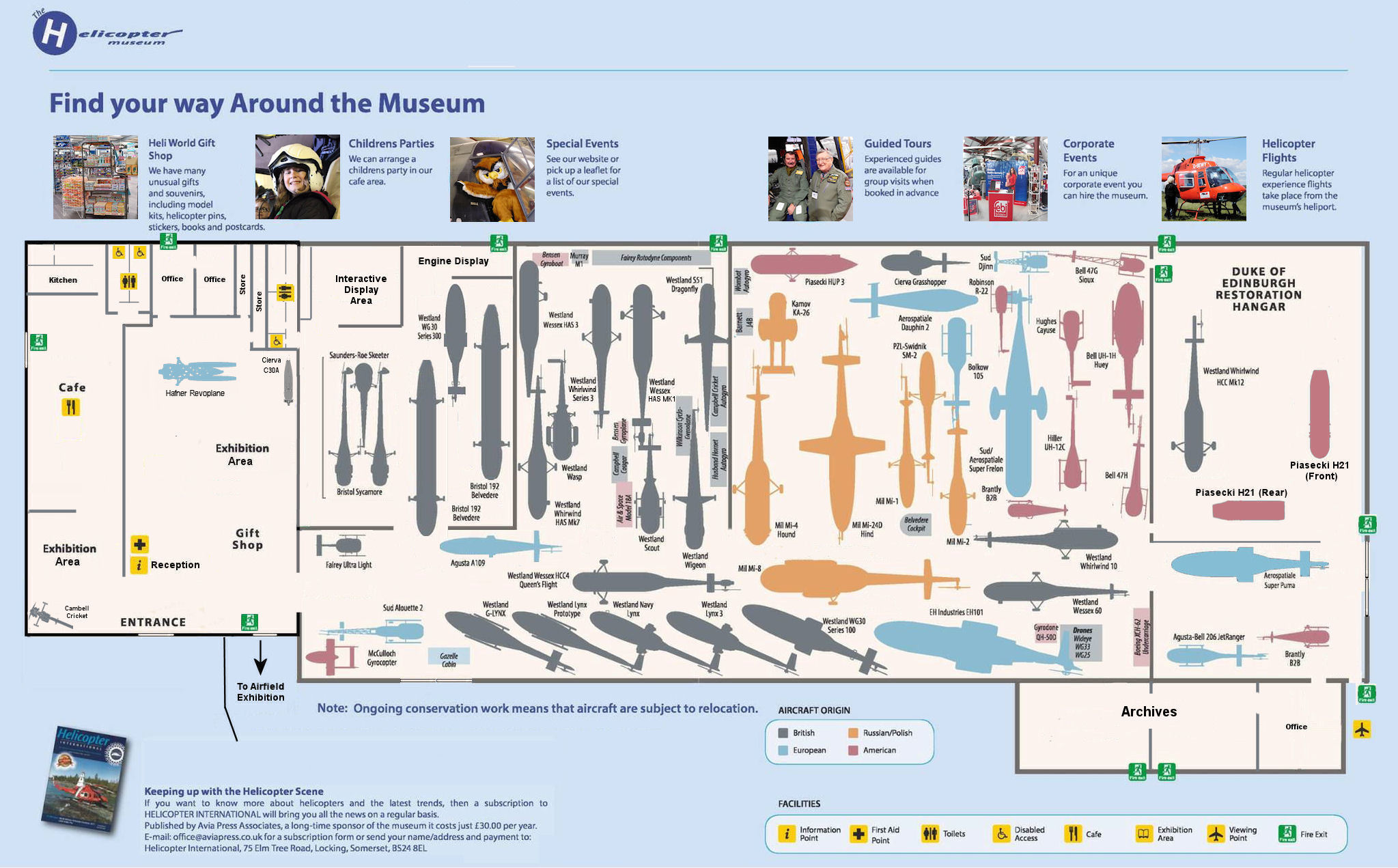 Group Visits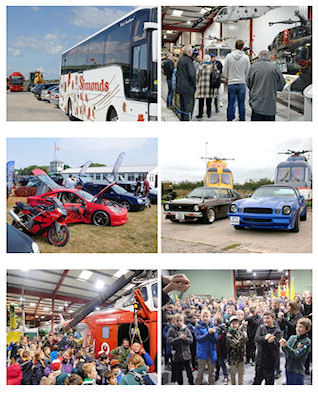 We welcome group visits, coach operators and clubs, and we can arrange a special guided tour for groups of 12 or more. Our 'Copter Cafe can provide refreshment and snacks.
The Helicopter Museum is popular with Car or Motorbike Clubs as it is the perfect location as a starting point for a club day out or a great venue to hold your car or motorbike club event or rally.
Group visits must be booked in advance. To plan and book your group visit please call 01934-635227 or contact the Museum.
Educational Visits
Visits by Schools, Scouting, Guiding and Cadet Forces are always popular and we can organise tailored activity days working with teachers to create a special day for their students. So please contact us for more information on the resources available or to arrange a meeting to discuss your requirements.
Young people under the age of 16 years must be accompanied by an adult at all times whilst on the Museum's premises and it is your responsibility to ensure your pupils safety and responsible conduct whilst visiting.
Please do not make a school visit without making a prior booking.
Venue for Corporate, Functions and Special Occasions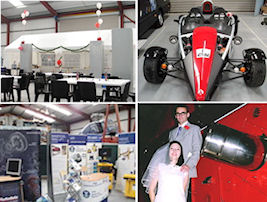 The Helicopter Museum provides a unique and memorable venue for your conference or special event so for a truly memorable occasion why not hold your function with us.
Because we can offer flexible and adaptable floor areas and space we can accommodate displays of varying sizes on site catering provided by our catering team.
We have hosted a number of major functions including:
- New Product Launches - Product Promotions
- Company Conferences - Corporate Away Days
- Fashion Shows – Photo Shoots - Craft Fayres
- Book Launches and a Wedding Reception
Interested in Being a Volunteer?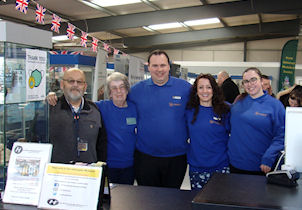 The Helicopter Museum is supported by the many volunteers spread across the Museum's different areas from tour guides, aircraft conservation, general site maintenance, working in the shop or at our events throughout the year.
Our volunteers come from all walks of life, giving their time to help and are essential to the work that we do.
Volunteering will help you to develop new skills and interests plus meet friendly like-minded people.
Our volunteer roles open up opportunities for you to contribute skills, time and enthusiasm to create positive experiences for our visitors.
We are always looking for new volunteers, whether you are able to volunteer often or occasionally, we would love for you to be involved, get in touch or pick up a leaflet at the front desk.
Aircraft Conservation
Conservation work on the aircraft is carried out entirely by volunteers in their spare time. The work is rewarding and the museum undertakes to provide small and large projects to fit in with the needs of the volunteers. See Current and Recent Conservation Projects
You do not need to have any background in engineering or aircraft manufacture as all work will be supervised by other team members.
Many of our restoration volunteers have gone on to have careers in helicopter aviation as pilots, instructors and engineers.
How can You help? Do you recognise any of the following attributes in yourself ?
An Interest in Aviation
Looking to meet people with the same interest
Spare time - Week Days or Weekends
Previous experience working in aviation
Keen interest in history
Charitable Trust
The Helicopter Museum is a Registered Charity (No. 281053) and is run by a small local management team and governed by a board of trustees.
We gratefully acknowledge the support of Leonardo Helicopters, American Helicopter Society, Bell Helicopters, Boeing, Bond Helicopters, Bristow Helicopters, Airbus Helicopters, Helicopter International Magazine, McDonnell Douglas, Arts Council England, North Somerset Council, Rolls Royce, Sikorsky, US Army, Fleet Air Arm and various service units in the Royal Air Force and Army Air Corps, as well as many other individuals and companies too numerous to mention
Memberships
The museum is a member of Aviation Heritage UK, Arts Council England, British Helicopter Association, The Transport Trust, International Association of Transport Museums, South West Federation of Museums and Galleries, Association of Independent Museums.