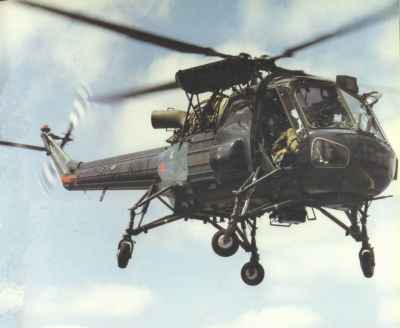 A light anti-submarine and anti-surface vessel helicopter, XT443 was the 60th Wasp built for the Royal Navy at the former Fairey factory in Hayes, Middlesex. It first flew, at Yeovil, in March 1966 and served, with No.829 Naval Air Squadron, aboard several Royal Navy frigates including HMS Galatea (1974-80) and HMS Aurora (1981-87). It survived a crash landing at Portchester, Hampshire, in March 1971 while on a test flight from Fleetlands. After introduction of the Westland Lynx, XT443 was retired to Wroughton, in May 1987, but then returned to Westland at Sherborn in 1990. It was acquired by The Helicopter Museum in January 1995.


The Wasp was powered by one 710 shp Bristol-Siddeley Nimbus 103/104 turboshaft engine, developed, by Blackburn, from a French Turbomeca design. It was capable of carrying two Mk44, or Mk46, homing torpedoes, Mk.11 depth charges or two wire-guided Nord AS-12 air-to-surface missiles.
The AS-12 missiles were fired by the pilot, then guided by an aircrewman/aimer in the left-hand seat, using a movement stabilised optical sight and a small joystick. The guide wires were jettisoned, when the missile reached its target, by activating wire cutters in the launcher. However, Wasps, on Royal Navy frigates, were intended, primarily, as anti-submarine delivery vehicles.

Westland Wasps differed from Scouts in having a folding tail boom, inflatable flotation gear in two external strut-mounted pods and quadricycle landing gear, with braked and castoring wheels.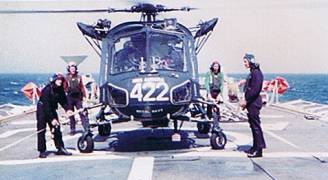 Other duties included SAR, liaison and reconnaissance. Nearing the end of their active lives, a few of the remaining Wasps, belonging to 829 Naval Air Squadron, operated from eight ships during the 1982 Falklands campaign when they flew a total of 712 combat sorties. HMS Aurora, to which XT443 was assigned in 1982, was not sent to the South Atlantic but went to the Arabian Gulf to join the Armilla Patrol. The photograph (left) shows XT443, on Aurora's deck, while passing through the Mediterranean, en route to the Suez Canal and the Gulf of Oman, in July 1982.
Thanks to Ian ('George') Cant for the photograph.
The first Wasp HAS.1 entered service in 1963, as the first helicopter in the world designed specifically to operate from the decks of frigates. A total of 98 Wasp helicopters were produced for the Royal Navy in addition to 35 for the export market. By the late 1980s the type had disappeared from Royal Navy service, but several surplus helicopters were passed to other operators. A few were exported to Indonesia, Brazil, the Netherlands, South Africa and New Zealand. Others went to Malaysia where they remained in service until 2002. A number of Wasps remain airworthy in private hands.