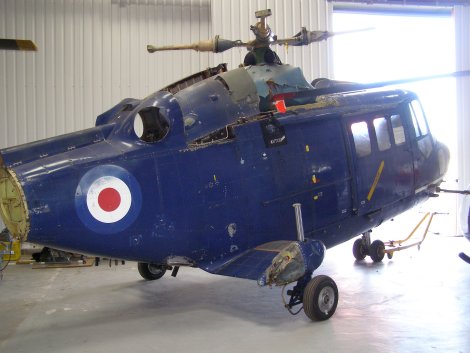 In January 2011 volunteers from the Lynx Operations Support Team at RNAS Yeovilton undertook to restore The Helicopter Museum's, Oxford blue, Lynx HAS.2, XX910, for exhibition at the annual Yeovilton International Air Day on 9th July 2011. This would commemorate the 40th anniversary of the first flight of a Lynx, XW835, piloted by Ron Gellatly, in 1971.
XX910 was transported to Yeovilton, on a low-loader, on 16th February 2011 with an intention to return it to The Museum, for permanent display, later in 2011. XX910 first flew on 23rd April 1974 as one of the pre-production prototypes of the light Lynx HAS.2, ASW helicopter, intended to replace the Westland Wasp.
Piloted by John Morton in September 1974, Lynx HAS.2, XX910, flew with the Westland display team at the Farnborough Air Show (page bottom). In June 1975, it was shown at Le Bourget.
During practice for its second Farnborough Air Show, in September 1976, it became the first Lynx to perform a loop and, in November 1976, it flew HRH The Prince of Wales out to HMS Sheffield in the Solent.