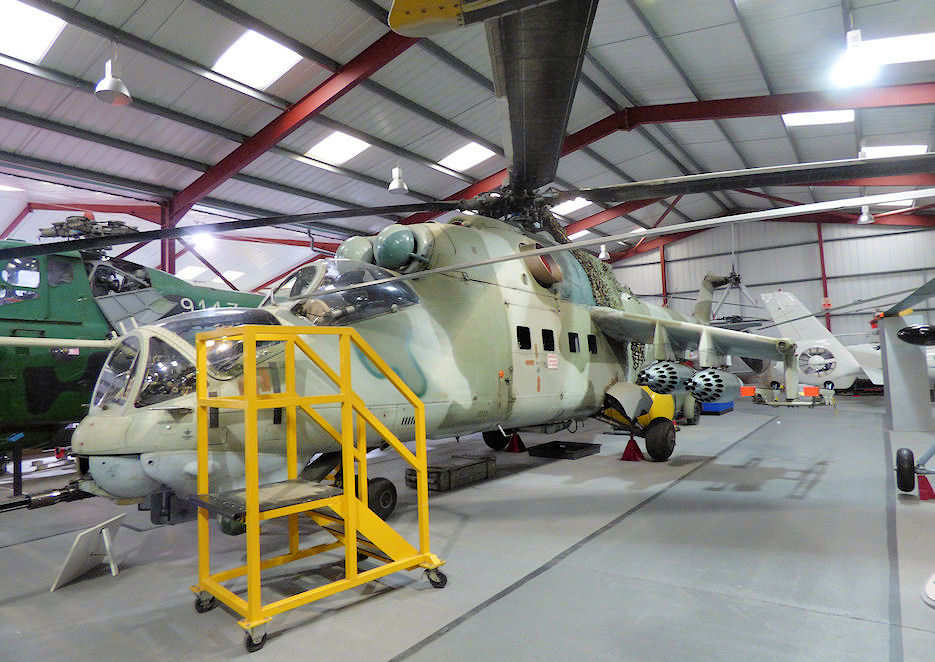 Registration: 421 / 96+26
Country of origin: Russia
Built: Soviet Union, 1981
Manufacturer: MiL Helicopters
Constructor's Number: 110159
Engines: Two 2200shp Klimov TV3-117 turboshaft engines
Type: Two plus eight seat attack helicopter

Note: The M-24D Hind was the most heavily armed attack helicopter of the Cold War. This one served in the East German Army prior to unification with West Germany in 1991..

Details: Developed by Mil as an anti-tank attack helicopter in the early 1970s, for operation against NATO armoured forces on the mostly flat and open plains of Eastern Europe and Russia, the Mi-24 became a formidable threat when it first entered service.

In 1975 a modified version set up a new world speed record of 368.4 km/h (228.9mph). Larger than contemporary Western attack helicopters, it also differs in having a small cabin available for casualty evacuation, troop insertion and similar roles. The pilot (rear) and weapons operator (front) sit in an armoured nose section, which features a turreted 12.7mm multi-barrel machine gun and under nose radar and missile sighting systems.

Nicknamed the 'Gorbach' (Hunchback), the D variant was used during the Afghan War in the early 1980s and in the Chechen conflict of the late 1990s. It is still in front-line use with Russian and other forces, and is likely to continue in service for several years.

This example was operated by the former East German (NVA) Army at Basepohl North East of Berlin prior to reunification, and then by HFLG-80 of the German Air Force until disbanded in1992.

Performance:
Max Speed: 335km/h (208 mph)
Empty Weight: 8200kg (18078 lb)
Range: 500 km (310 miles)
Capacity/Load: 11 persons / 3800kg (8377 lb)
Power: 2 x 2225 shp Isotov TV3-117 turboshaft
Weapons: 1x 127 mm 4-barrel machine gun with 1450 rounds, 4x anti-tank missiles, 4 x rocket pods (32 x 57mm rockets ea.) or alternative pods each housing 1x 23mm cannon or 1x 12.7mm and 2x 7.62mm machine guns or 1x 30mm grenade launcher or 1500kg bombs etc. Provision for firing AK-47 guns from cabin windows.