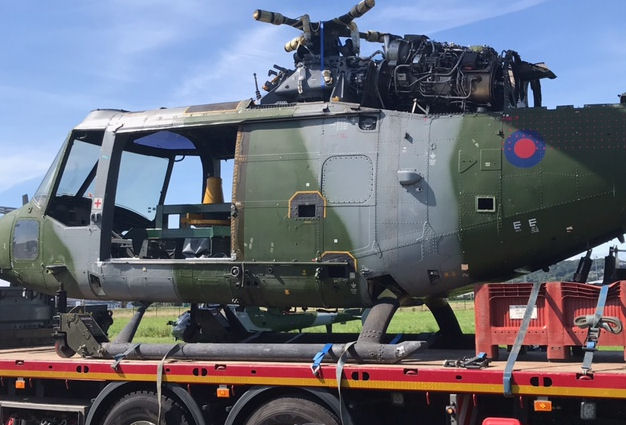 Registration: XZ649
Country of origin: UK
Built: Yeovil, England, 1980
Manufacturer: Westland Helicopters
Engine: Two Rolls-Royce Gem 41-1 engines

Type: Battlefield utility helicopter

Note: Served with 655 Squadron 5 Regiment Army Air Corps in Northern Irleand. Used as an engineering test rig at University of Bristol before arriving at the Museum..

Details: Built as an AH-1 and first flew on 9th September 1980. Delivered on 23rd September 1980 to 655 Squadron 5 Regiment Army Air Corps at Middle Wallop.

Exhibited at Mildenhall Air Fete in 1985. On 30th July 1985 flew a special Marine Combat Training flight from HQ AAC Middle Wallop carrying special first day cover commemorating the introduction of PTARMIGAN to the 1st Armoured Division.

In 1997/98 XZ649 was based at Aldergrove, Northern Ireland, in support of Operation Banner. Converted by 1999 to AH.7 standard with uprated engines and BERP type rotor blades.

Retired by 2010 and used at Farnborough for general instruction. It was fitted with tailboom from Lynx XZ646 which had been written-off on 21st February 2005 in an air accident at Zenica in Bosnia. Transferred by January 2012 to University of Bristol Faculty of Engineering as an instructional test rig.

Arrived at The Helicopter Museum on 23rd August 2023.