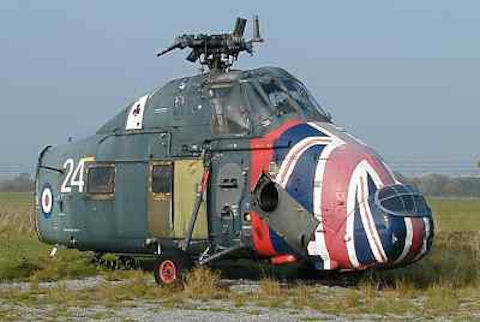 Registration: XS486
Country of origin: UK
Built: Yeovil, England, 1964
Manufacturer: Westland Helicopters
Constructor's Number: WA/160
Engine: Two 1250 shp Bristol Siddeley Gnome Mk.110 turboshaft engines

Type: Ship borne, Commando assault helicopter

Note: Served in the South Atlantic during the Falklands War. Painted with Union Jack nose..

Details: First flew 5th February 1964. Delivered to Royal Navy 5th March 1964.

Stationed at RNAS Culdrose with 707 Squadron, providing the Commando Helicopter Operational Training Course, with a brief detachment to 846 Squadron. XS486 was moved to RNAS Yeovilton, with 707 Squadron, in 1972,

On 19th April 1982 XS486 was transferred, from RNAS Yeovilton's 707 Squadron, to 'A' flight of a hastily reformed 848 Squadron and had toned down wartime markings applied, with the original serials and codes overpainted black. On the same day it embarked on RFA 'Regent' from Portland, sailing, via Devonport and Ascension, for the South Atlantic and the Falklands conflict. On arrival in the Falklands area, on 12th May, 'Regent' joined the aircraft carriers 'Hermes' and 'Invincible'. The Squadron's HU.5s were used for replenishment, troop transport and casualty evacuation throughout the Carrier Battle Group. XS486 and XT765, the two Wessex HU.5s assigned to 'Regent,' transferred a total of 2562 pallets of stores and ammunition in support of the Task Force. After the main Argentine force surrendered on 14th June, XS486 was transferred to ' Endurance', and then returned to the UK on the container ship 'Atlantic Causeway', reaching Devonport on 27th July 1982.

Stationed back wih 707 Sqn at Yeovilton and Culdrose until 1986 when it was stored at Wroughton. In 1990 was used by RN Recruitment Team at Lee-on-Solent, and then 93 Sqn ATC at Bath. In storage at Colerne before arriving at the Helicopter Museum in March 2004.