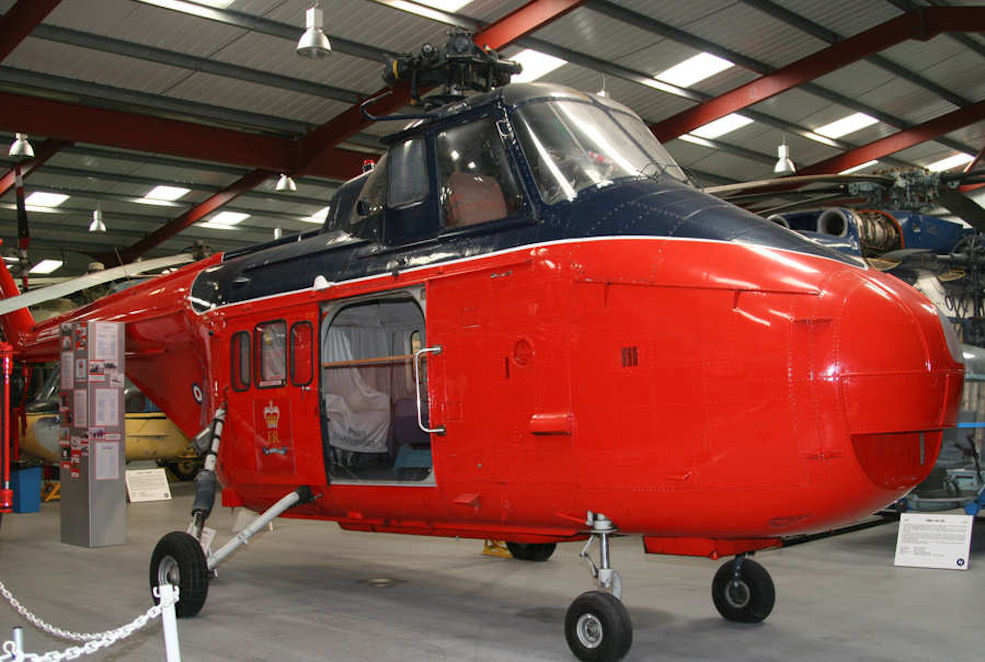 Registration: XR486
Country of origin: UK
Built: Yeovil, England, 1964
Manufacturer: Westland Helicopters
Constructor's Number: WA 418
Engine: One 1050 shp Rolls-Royce Gnome turboshaft engine

Type: One of only two VVIP Whirlwinds built for The Queens Flight

Note: This helicopter was frequently piloted by HRH Prince Philip and The Prince of Wales. The Queen did not fly in a helicopter until the Whirlwind was replaced by the twin-engined Wessex.

Details: The Royal Air Force King's Flight first began operating helicopters in 1947, when the early Sikorsky R48 was used to deliver urgent mail and despatches between Dyce Airport and Balmoral during the King's annual summer visit to Scotland. Following the accession of Queen Elizabeth II in 1952, the helicopter was again considered for Royal duties, encouraged by HRH Prince Philip who became an accomplished helicopter pilot.

From 1954-1958 The Queen's Flight occasionally operated a Westland Dragonfly but this was of limited value and, in November 1959, the Flight received the much larger Whirlwind HCC Mk.8, which offered sufficient cabin space to allow VIP passengers to travel in comfort and to enter and exit the helicopter with dignity.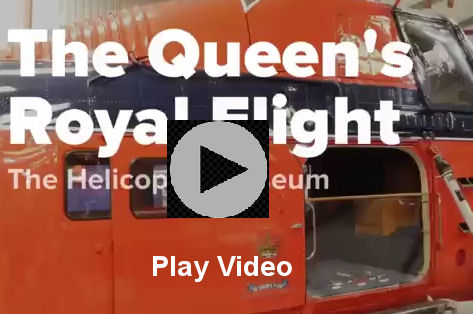 In May 1964 the piston engined Mk.8 was replaced by two HCC Mk.12's based on the new Whirlwind Mk.10 with the Gnome turboshaft engine, but with special soundproofing, luxury furnishings, chrome trimmings and a high gloss colour scheme. The second of these aircraft was destroyed in an accident in July 1967, but the aircraft on display (XR486) continued in Queen's Flight service until it was replaced by the larger Wessex helicopter.

During its time with the Queen's Flight, XR486 was frequently piloted by HRH Prince Philip and The Prince of Wales. The helicopter also carried other members of the Royal Family, senior members of the government and foreign dignitaries to and from various venues and events.

Wessex HCC Mk4 replaced the Whirlwind in the Queen's Flight in July 1969, and Whirlwind XR486 was transferred to 32 Sqdn at RAF Northolt for VIP duties. It was retired for ground training and from 1981 exhibited in the St Athan Historic Aircraft collection. XR486 was sold in 1993 to Whirlwind Helicopters Ltd and given the civilian registration G-WWW, before being transferred to The Helicopter Museum on 8 June 2000 where it has been restored to the pristine condition of the Queen's Flight.

Performance:
Max Speed: 177 km/h (110 mph)
Empty Weight: 2247 kg (4952 lb)
Range: 483 km (300 miles)
Capacity/Load: 12 persons / 1382 kg (3048 lb)
Power: 1x 1050 shp Bristol-Siddeley Gnome H1000 turboshaft