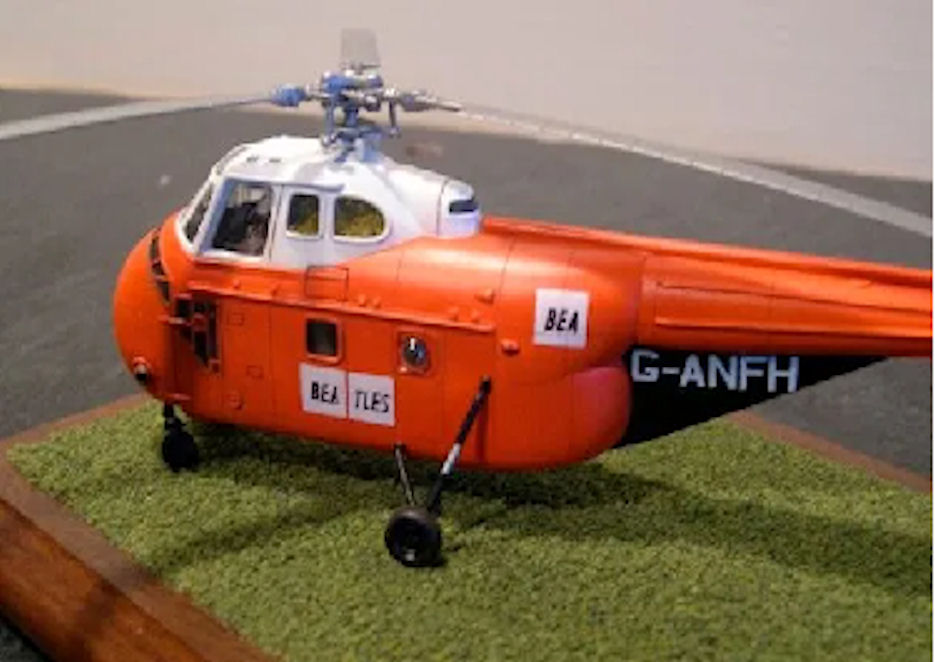 Registration: G-ANFH
Country of origin: UK
Built: Yeovil, England, 1954
Manufacturer: Westland Helicopters
Engine: One 600 hp Pratt & Whitney Wasp R-1340-40 nine-cylinder radial piston engine

Type: 12 seat civilian transport

Note: This helicopter was operated by Britrish European Airways (BEA) and appeared in several films including the Beatles 'A Hard Day's Night'. Currently in outside storage. No restoration yet done. Tail fin only on display.

Details: G-ANFH was the third WS-55 to be built in Yeovil for civil use. With eight passenger seats it was delivered to the BEA Helicopter Unit on 2nd November 1954, named 'Sir Ector' and used for experimental scheduled services between Heathrow airport and Southampton, carrying the red and black BEA livery of the day.

Other inter-city routes were operated by BEA for short periods, using G-ANFH and two other WS-55s, but none proved successful financially, though valuable experience was gained. Scheduled passenger services came to an end in 1956 and the unit had then to rely entirely on charters for its income.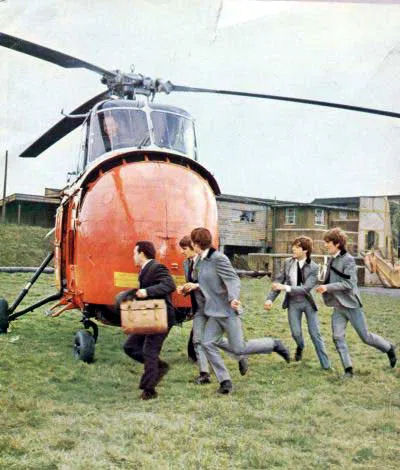 In 1960 G-ANFH was used in a feature film starring Dean Martin and Ann-Margret, 'Murderers Row', a Matt Helm comedy with flying scenes set in the Cote d'Azur. Still in BEA livery, G-ANFH was used for crop-spraying demonstrations in 1959 and, on 9th September 1961, carried the Golden Jubilee Mail between Hendon and Windsor. This event commemorated the first aerial post to Windsor in 1961. In 1963 G-ANFH took part in one of the infamous Farne Islands seal culls and appeared in the Joseph Losey film 'The Damned', with Oliver Reed.

It was most famously used in 1963 for the Beatles film 'A Hard Days Night' during which 'TLES' was painted on the fuselage after 'BEA' the logo for British European Airways. Sir Ector is seen flying the Beatles away from thousands of adoring fans, hence becoming synonymous as the 'BEATLES Helicopter'.

In the 1965 Terry Thomas comedy 'You Must be Joking' G-ANFH made quite a long appearance and, in July 1966, it was flown to Brands Hatch to be available as an air ambulance for the British Grand Prix.

Having flown over 4000 hours with BEA, Sir Ector, G-ANFH, was sold to Autair Helicopter Services in April 1969 but was acquired, a few weeks later, by Bristow Helicopters and used for pilot training, crop-spraying and, based at Blackpool, providing support for Gulf Oil's early offshore oil and gas exploration in the Irish Sea.

When its C.of A. expired in 1971 G-ANFH was stored at Bristow's North Denes base, near Great Yarmouth, until transferred to Redhill in 1977. It was soon acquired for The Helicopter Museum and was moved to Weston-super-Mare in 1978, where it remains in external storage. No restoration has been attempted.