Registration: G-AOUJ / XJ928
Country of origin: UK
Built: Hayes, UK, 1956
Manufacturer: Fairey Aviation
Constructor's Number: F.9429
Engine: One 256shp Blackburn Palouste turbine

Type: Two seat observation helicopter

Note: This experimental desgn was powered by tip-jets using a mixture of compressed air from the engine air and fuel ignited at the rotor tips..

Details: The Fairey Ultra-light helicopter was one of several projects submitted in the mid-fifties to meet a British Army specification, HR.144T, for reconnaissance and general purpose duties on the battlefield. The design was based on the tip-jet principle, whereby compressed air from the Palouste engine was directed to the rotorblade tips where it was mixed with fuel and ignited to provide propulsion. This simple design did away with the need for a heavy transmission system and eliminated the need for a tail rotor.

The pilot's controls included a collective-pitch lever with a twist-grip engine throttle, a stick for roll and pitch, and a foot pedal to control a steel skinned rudder positioned in the jet efflux. The simple fuselage construction was based on a large light-alloy box, containing the bag-type fuel tank, and with the rotor pylon rising from the centre. A box-girder boom ran aft, having the engine attached below the front section and terminating in the tail unit.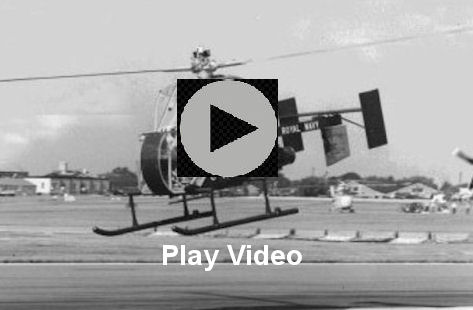 The first of six Ultra-Lights first flew at White Waltham on 14th August 1955, piloted by Ron Gellatley. The machine now with The Helicopter Museum was the second prototype, originally serial number XJ928, but registered G-AOUJ after the Ministry of Supply withdrew Army support in early 1956. When G-AOUJ made its first flight on 20th March 1956 the development programme had become wholly a Fairey private venture. G-AOUJ appeared at the 1957 and 1958 Farnborough Air Shows showing off its ability to land and take-off from a moving truck, and climbing vertically at an amazing 3,000ft per minute.

In 1957 G-AOUJ was modified with hydraulic controls, and reflown on 1st September. Over the next 12 months the aircraft was used for training and demonstrations including the 1957 and 1958 SBAC Farnborough Air Shows latterly carrying Royal Navy markings and taking off from a moving truck with just 8cm (3inch) clearance on either side of the truck bed. Next the nose was modified to take a stretcher for promotion as a casualty evacuation helicopter. In this form it was evaluated by the Royal Army Medical Corps in October 1958, before being shipped to Canada for cold weather trails. Despite the basic success of the design Fairey did not succeed in their efforts to market the Ultra-Light and the project was finally abandoned in 1959.

After standing at White Waltham for some time G-AOUJ was sold off for scrap, but was rescued by Peter Swettenham, who took the remains to his home in Essex. In 1977 Museum Founder Elfan ap Rees decided to make a determined effort to trace G-AOUJ and it was eventually rediscovered on a farm near Harlow, albeit less its engine, tail unit, rotors and other parts, and suffering seriously from corrosion. Elfan initially moved G-AOUJ to Weston-super-Mare in May 1979 after it had joined his personal collection, before relocating the aircraft to the Cotswold Aviation Group in Gloucester to start restoration. Meanwhile in a search for the missing parts the original tailboom was discovered at the Royal Aircraft Establishment at Bedford, two original rotor blades were found and a Palouste engine acquired.

Subsequently the Cotswold group closed down, and in 2010 G-AOUJ returned to Weston for continuing restoration before ownership was officially transferred by Elfan to the Museum in 2014. The instrument panel and other parts of the helicopter were restored, and the engine refurbished at Rolls Royce. A new tailplane unit and a rotorhead were manufactured and cockpit glazing panels replaced. The restoration of G-AOUJ for public display in the Helicopter Museum was completed in July 2021.