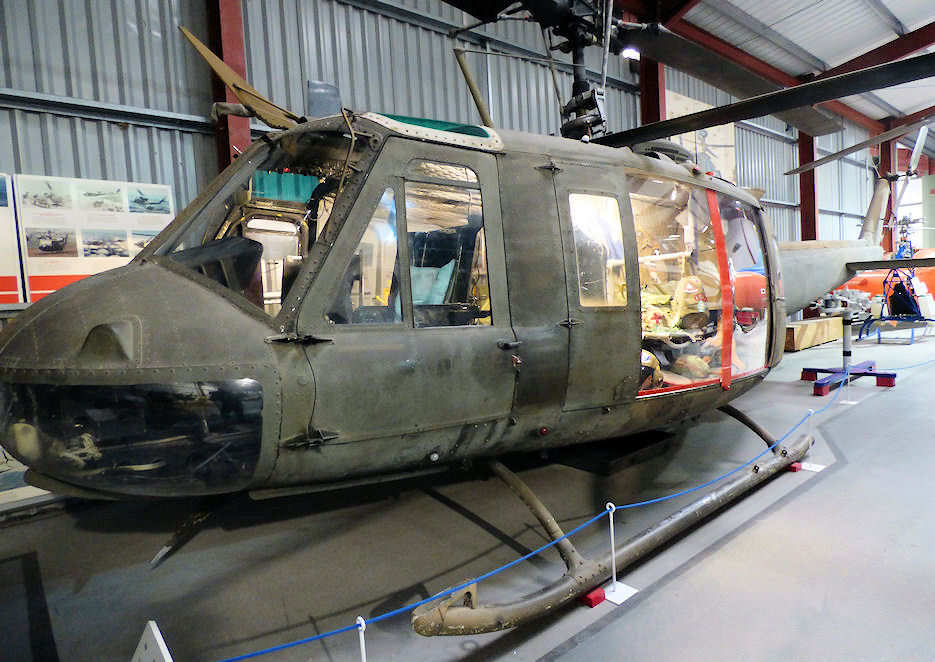 Registration: 66-16579
Country of origin: USA
Built: Fort Worth, Texas, 1967
Manufacturer: Bell
Constructor's Number: 8773
Engine: One 1400shp Lycoming T53-L-13 engine

Type: 16 seat utility transport

Note: This actual helicopter served with the US Army between 1967-1975 in the Vietnam War and took part in the Tet Offensive of 1968. In 1990 it supported allied action against the Iraqi invasion of Kuwait..

Details: The Bell UH-1 (originally designated the HU-1, hence its universal nickname 'Huey') was designed in the mid-1950s to meet a US Army requirement for a new generation utility helicopter, suitable for medical evacuation, troop transport / freight carriage and similar missions, and able to carry a 363 kg (800 lb) payload over a 185 km (100 nautical mile) radius at a cruising speed of 185 kph (115 mph). It also had to be air-transportable in the cargo aircraft of the period.

The first prototype 'Huey', designated the XH-40, made its first flight on 22 October 1966, by which time the initial production version, the HU-1A Iroquois, had already been ordered into production to meet the growing US commitments in Vietnam. The first aircraft entered service in June 1959 and initial deliveries were to the 82nd Airborne, 101st Airborne and the 57th Medical Detachment. HU-1As from the latter unit were the first Hueys in the Vietnam War theatre, arriving there in March 1962. The similar UH-1B and UH-1C followed in due course, whilst a civil variant was designated the Model 204.

Meanwhile, the need to replace the Sikorsky H-34 and Vertol H-21 in the tactical transport role led to further development of the basic design and the first flight in August 1961 of the upgraded YUH-1D model, with an enlarged cabin, more powerful engine and rotor system, greater fuel capacity and other improvements. The first UH-1Ds entered service with the US Army in August 1963, and over the next three years more than 2000 were built before it was superseded by the UH-1H. This introduced the upgraded T53-L-13 engine and many UH-1Ds were subsequently re-engined to this standard.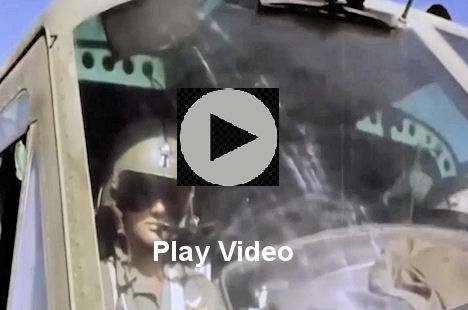 Total production of the UH-1 family since 1956 has exceeded 30,000 aircraft, and at the end of 1992 the type was still being built in small numbers in Japan and Turkey. The commercial version of the UH-1D and UH-1H was designated the Model 205 and, developed with twin engines and other improvements became the UH-1N/Model 212 and the Model 412 - both of which are still in production today. It was eventually upgraded into the much more powerful Model 214, with a 2930 shp turbine engine, and the twin-engined Model 214ST which can carry up to 17 passengers plus crew.

The UH-1H at the museum, serial 66-16579, was built at the Bell Hurst factory in 1967 as a UH-1D, being completed on 26 June and delivered direct from the factory to the nearby USAF Carswell Air Force base on 3 July for air-shipment to the Vietnam war theatre. Its operational service in SE Asia is still the subject of research, but the aircraft almost certainly took part in the Tet Offensive of 1968 and may have continued operating in the SE Asia war theatre until US forces withdrew in 1972. During this period it was upgraded to UH-1H configuration.

Subsequent to the Vietnam War, 16579 was reallocated to US Army Europe, and based with 4th Sqdn, 7th Cavalry, stationed in Germany. With the Iraqi invasion of Kuwait in August 1990 the aircraft was one of many US Army helicopters deployed to Saudi Arabia for the subsequent allied offensive. At the end of that conflict it was shipped back to Germany for survey and refurbishing. It was then moved to Ramstein AFB to await reshipment to the United States, but in April 1992 the decision was made to strike it off charge and to donate it to the Helicopter Museum. 66-16579 was eventually collected by road transport, arriving at Weston-super-Mare on 29 August 1992. Reassembly began almost immediately, although some missing components had to be found through US and European sources before the work could be completed.

Performance:
Max Speed: 204 km/h (127 mph)
Empty Weight: 2300 kg (5090 lb)
Range: 575 km (357 miles)
Capacity/Load: I4 persons / 2000 kg (4410 lb)
Power: 1x 1400 shp Lycoming T53-L-13 turboshaft engine
Weapons: 2.50 cal or 7.62 mm machine gun