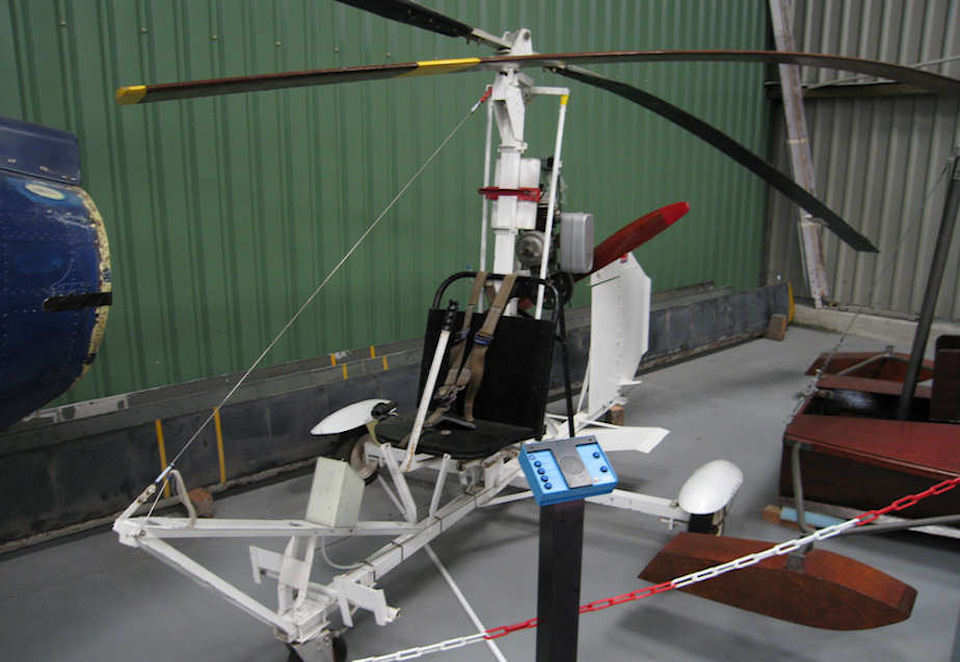 Registration: G-BIGP
Country of origin: USA
Built: Assembled by R. Cooper at Shrewsbury from kit supplied by Bensen, 1981
Manufacturer: Bensen Gyroplane Co.
Engine: One McCulloch Model 4318 engine

Type: Single seat light autogyro

Note: The Bensen Gyroplane had its origins in the 'Rotachute' glider developed in 1941 by Raoul Hafner, who became Chief Designer at Bristol Helicopters here at Weston-super-Mare.

Details: Igor Bensen is popularly credited as the father of the modern gyroplane movement, having developed this form of flight during the late 1940s and early 1950s from one-man light foldable autogyro technology, designed and built during the Second World War by Raoul Hafner at the Airborne Forces Experimental Establishment, Ringway Airport, Manchester.

Examples of the Hafner 'Rotachute' were later shipped to the United States for evaluation and Bensen modified the design with a semi-rigid rotor and rudimentary land gear, initially as a gyro glider but followed in 1955 by a prototype B7M (motorised) with a Nelson two-stroke engine.

The B8M, with a McCulloch engine previously developed for aerial target drones, was introduced in 1957 with various improvements over the B7M, including a floor-mounted cyclic stick replacing the previous overhead hanging control and square-section aluminium tubing replacing the rounded-section tubing used in the B7. Especially affordable for the would-be autogyro pilots as a kit that could be assembled at home, by 1980 more than 4000 had been sold, although not all would eventually be completed and flown.

Purchased for £1500 including the engine, G-BIGP on display was built by Richard Cooper with the assistance of John Whittles at Betton-Alkmere in Shropshire in 1979 and flew for a number of years from a local farm. Subsequently grounded and put in storage, it was donated to the Museum in May 2008.

Performance:
Max. Speed: 137km/h (85mph)
Empty Weight: 112kg (247lb)
Power: 1x 72hp McCulloch two-stroke engine
Capacity: 1 person (115kg) (353lb).