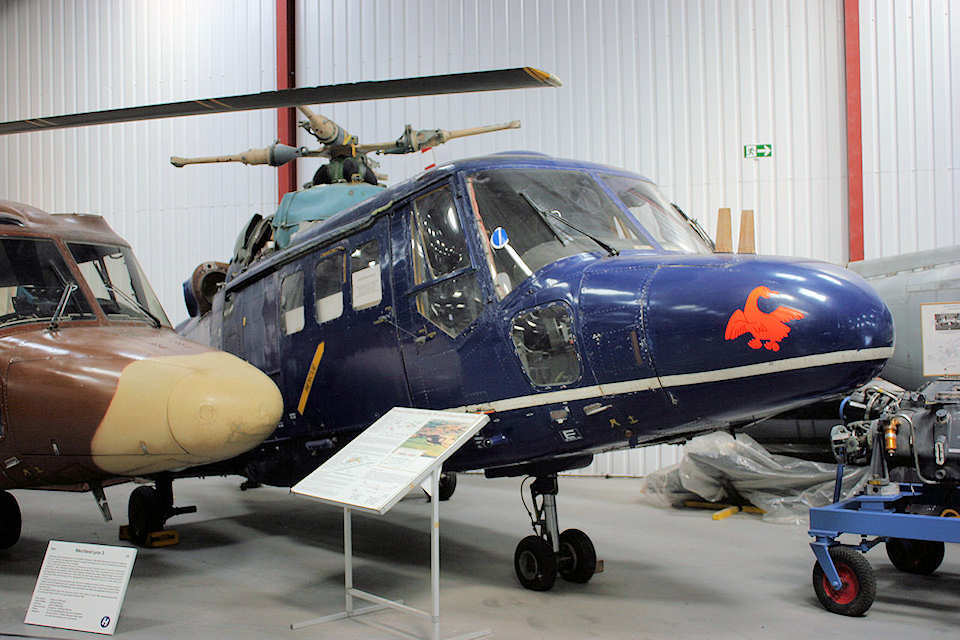 Registration: XX910
Country of origin: UK
Built: Yeovil, England, 1974
Manufacturer: Westland Helicopters
Constructor's Number: Mar-16
Engine: Two 900shp Rolls Royce BS360 (Gem) turboshaft engines

Type: Anti-Submarine and Surface Strike helicopter

Note: This is the second prototype of the naval version of the Lynx. It was used for radar and performance testing, and was the first to fly a complete loop.

Details: Development of the Westland WG-13 Lynx helicopter began in the early 1960s as a joint Anglo-French project, with two distinct variants emerging from a Memorandum of Understanding signed on 17 May 1965. This required development of an Army tactical transport, with a skid undercarriage, and a naval anti-submarine version with wheeled landing gear. Design responsibility remained in the UK with France having a 30% share of the development and production of the maritime aircraft.

Initially five basic WG-13 prototypes were ordered together with one (XX469) to represent the naval version. These were then followed by a dedicated Army prototype and four maritime prototypes, two for the French Navy (XX904 and XX911) and two for the Royal Navy (XX510 and XX910). These featured a re-profiled lowered top-decking, a more bulbous nose to accommodate the Ferranti Seaspray radar, a folding tail and main rotor blades, and a high-strength wheeled landing gear with flotation equipment and a deck harpoon to facilitate operations from small ships in high sea states.

The original basic naval prototype XX469 first flew on 25 May 1972 but was relatively short-lived, being written off in an accident on Westland's Yeovil airfield on 27 November 1972. Construction of XX910, the second dedicated Royal Navy prototype, began at Yeovil in 1972 alongside XX510 but the aircraft did not reach the paint shop until February 1974 and the Flight Shed soon after. Initially it was utilised for some weapon installation tests before its first five minute flight on 23 April 1974 at the hands of test pilot John Morton. Allocated for radar development, it spent much of the next two years testing the Ferranti Seaspray radar and associated Sea Skua missile guidance system, carrying out trials at various locations including Burnt Island near Edinburgh, RAE Aberporth, A & AEE Boscombe Down, Yeovil and at Portland from where it completed the radar trials in late 1974 - early 1975 in an assessment against fast patrol boats off the Dorset coast, this despite testing being frequently interrupted by Russian surveillance trawlers trying to gather electronic data and forcing the crew to switch off the radar!

Interspersed with this were appearances at the SBAC show at Farnborough in 1974, the Paris Air Show in 1975 and a loan back to Westland in late August 1976, when the aircraft was used by John Morton to perform the first-ever Lynx loop to establish the parameters for display flying. This feat occurred at 10.46 on 28 August after five part-loops, and was followed by two more complete loops on the same day and similar demonstrations at the Farnborough SBAC Show in early September. Later that year XX910 visited RNAS Lee-on-Solent to fly HRH The Prince of Wales to and from HMS Sheffield in the Solent. In 1977 the aircraft returned to more mundane trials work at A & AEE Boscombe Down.

In March 1978 XX910 began a new career as a trials installation vehicle with the Royal Aircraft Establishment, Farnborough and Bedford until 1980. By March 1981 it had been grounded, with only around 450 total flying hours completed and the rotors and tailboom removed. It continued to be used on and off as a systems rig for various tests at Farnborough, mostly parked out doors, until finally declared redundant in November 2000.

Following this decision, the partially stripped front fuselage was donated to The Helicopter Museum and delivered on 5 December to Weston-super-Mare. Here it remained in storage until early 2011, when a team at RNAS Yeovilton offered to restore the airframe to a static display standard, using a tailboom and other parts acquired by The Helicopter Museum in the intervening years and scrap components from early production Lynx being retired from service. XX910 was therefore shipped to Yeovilton on 16 February 2011 and over the next 19 weeks was rebuilt and repainted before being displayed at Yeovilton Air Day on 9 July, prior to returning to The Helicopter Museum for permanent display.