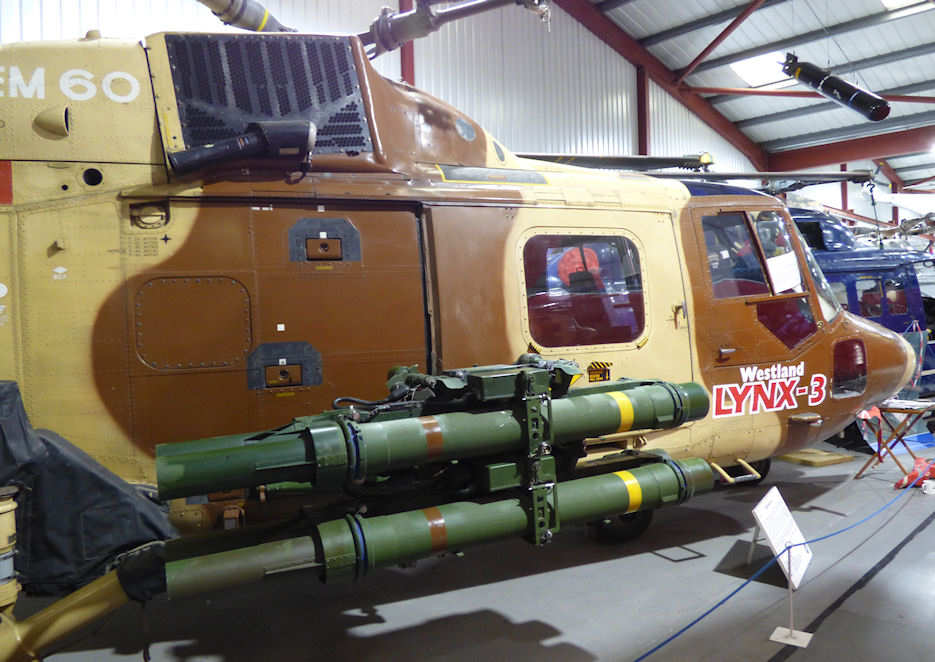 Registration: G-17-24/ZE477
Country of origin: UK
Built: Yeovil, England, 1984
Manufacturer: Westland Helicopters
Constructor's Number: 319/001P
Engine: Two 1260shp Rolls-Royce Gem 60 turboshaft engines

Type: Military battlefield attack/utility helicopter

Note: ZE477 was the only Lynx 3 ever built. It was a stretched advanced anti-tank version of the Lynx with many new features, but did not go into production.

Details: The Lynx 3 was a private-venture prototype built by Westland to demonstrate the potential of a growth variant of the Lynx helicopter, and largely using technology already available in the Lynx and WG30 programmes. The aircraft was manufactured using the major components of Lynx airframe c/n 310, with a 30cm (11.8in) plug in the forward fuselage, and a standard WG30 tail boom and tail unit. The WG30 uprated transmission and composite tail rotor were also incorporated but the aircraft retained the standard Lynx main rotor. New sideways-facing engine air intakes with particle filters and a new wheels, crashworthy, main undercarriage were other distinguishing external features. Internally the pilot was supplied with an armoured seat featuring shock absorbing struts, designed to survive descent rates of 6.10m (20ft) per second.

Gross weight of the Lynx 3 was, at 5896kg (13000lb), greater than the standard Lynx, allowing the aircraft to offer much greater firepower. Advanced avionics permitted day/night anti-tank operations. A naval variant was also proposed.

ZE477 was the only Lynx 3 built, making its first ground runs at Yeovil with the temporary markings G-17-24 on 8 June 1984, before flying on 14 June. It subsequently appeared at the Army Air Corps Centre Middle Wallop Air Show in July 1984 after completing just seven hours test flying, and was then used for trials and demonstration work through 1984-85. On 22 August 1986 ZE477 reflew with the new generation BERP (British Experimental Rotor Programme) main rotor blades, as used on the World Air Speed Record Lynx. These improved performance and payload quite significantly. The aircraft was demonstrated with the new blades at the 1986 SBAC Display and continued as a marketing demonstrator until March 1987 when it was grounded after total 83.45 total flying hours.

The last flight was on 10 March 1987 and ZE477 then remained in storage until August 1988, when Westland agreed to transfer this interesting one-off prototype to the Helicopter Museum. After some refurbishment work, it was delivered by road to Weston-super-Mare on 16 June 1989.

Performance:
Max Speed: 306 km/h (190 mph)
Empty Weight: 3355 kg (7396 lb)
Range: 620 km (385 miles)
Capacity/Load: 12 persons / 2542 kg (5604 lb)
Power: 2x 1115 shp Rolls-Royce Gem 60 turboshafts
Weapons: 20 mm cannon, 7.62mm-mini-gun inside cabin, 8 x anti-tank missiles, air to air missiles.