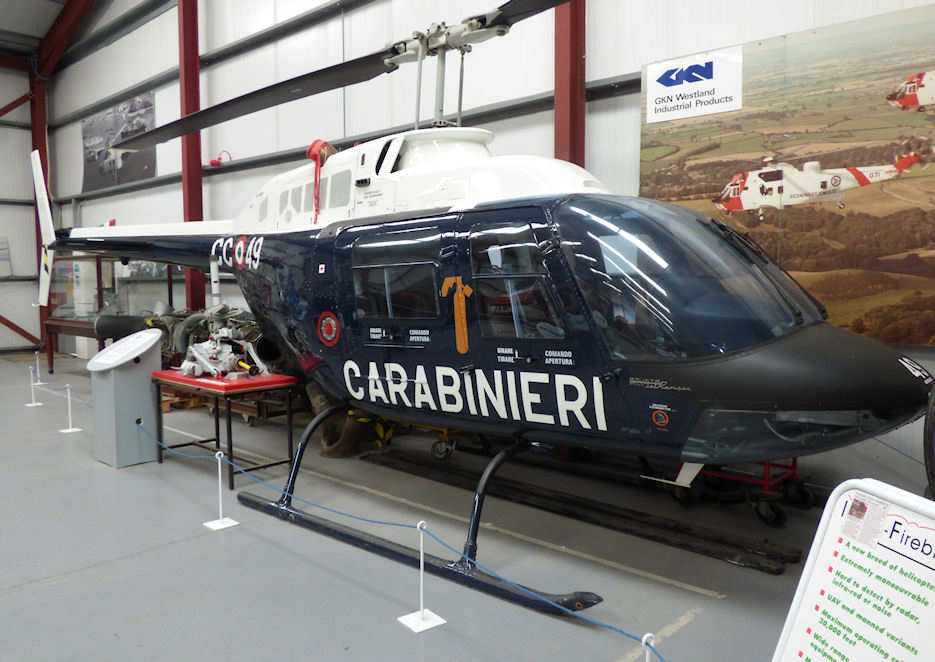 Registration: MM80927
Country of origin: Italy
Built: Cascina Costa, Italy, 1974
Manufacturer: Agusta-Bell
Constructor's Number: 9151
Engine: One 420shp Allison 250-C20 turboshaft engine

Type: 4/5 seat transport helicopter

Note: The Jet Ranger was one of the world's first turbine commercial helicopters with over 7700 built. This one was operated by the Carabinieri (Italian Police).

Details: Built 1974 at Cascina Costa, Italy, constructor's number 9151, five seat light turbine helicopter powered by a 420 shp Allison 250-C20 turboshaft engine.

In 1961 the Bell Helicopter Company answered a US Army request for a Light Observation Helicopter in competition with projects by Hiller and Huges. Prototypes of all three competitors were ordered and the first Bell prototype, designated Model 206/OH-4 was flown on 8th December 1962.

The aircraft was powered by a 250shp Allison T-63 turboshaft and featured a four-seat cabin with a bubble cockpit section and a two blade main rotor with a stabiliser bar, based on the principle well established with the earlier Model 47 helicopter. In the event Bell lost the competition to the Huges OH-6 but the company decided to redesign the helicopter to a more commercial specification. This emerged in 1965 as the Model 206A JetRanger.

The new design was based on the dynamic components of the original Model 206 but with the stabiliser bar deleted and with an uprated 317shp Allison 250-C18 civil version of the T-63 engine. It also introduced a more aerodynamically stylish airframe design with five seats and a much improved internal layout, including 0.45 sq metres of baggage space. The prototype Model 206A first flew at Bell's Fort Worth, Texas facility on 10th January 1966 and entered production later that year. Deliveries began in January 1967 and the JetRanger became an instant success, and an iconic design that was to continue in production for more than 40 years.

The obvious potential of the JetRanger, saw interest from the Agusta company in Italy to build the helicopter under licence. This was agreed early on and production launched in 1967 under the designation AB206A-1. Initial buyers included the Italian Army and other military customers in but also included Italian government operators, including the Carabinieri. This state military police force is responsible for a wide range of security duties, including boarder conrol, protecting military and government assets, law enforcement and overseas peace keeping missions.

MM80927 was the ninth original AB206A-1 ordered and first flew on 29th August 1974 at Cascina Costa before being delivered to the Carabinieri on 6th September. Based at Pratica di Mare on Italy's west coast, it continued in service for more than 30 years. Later upgraded to AB206C-1 standard with a more powerful engine the aircraft was finally retired on 11th February 2008, having completed 6857.10 total flying hours, before going into storage and later being transferred to the AgustaWestland facility at Frosinone. Three years later, the helicopter was allocated by AgustaWestland to the museum and restored by staff at Frosinone. It was delivered by road on 30th April 2012 and put on display from the 2nd May.

Agusta finally ceased AB206 production after building almost 1000 aircraft, whilst Bell moved their production to Canada in 1986 and continued manufacturing the aircraft until late 2010, bringing the grand total produced to around 7700 helicopters.