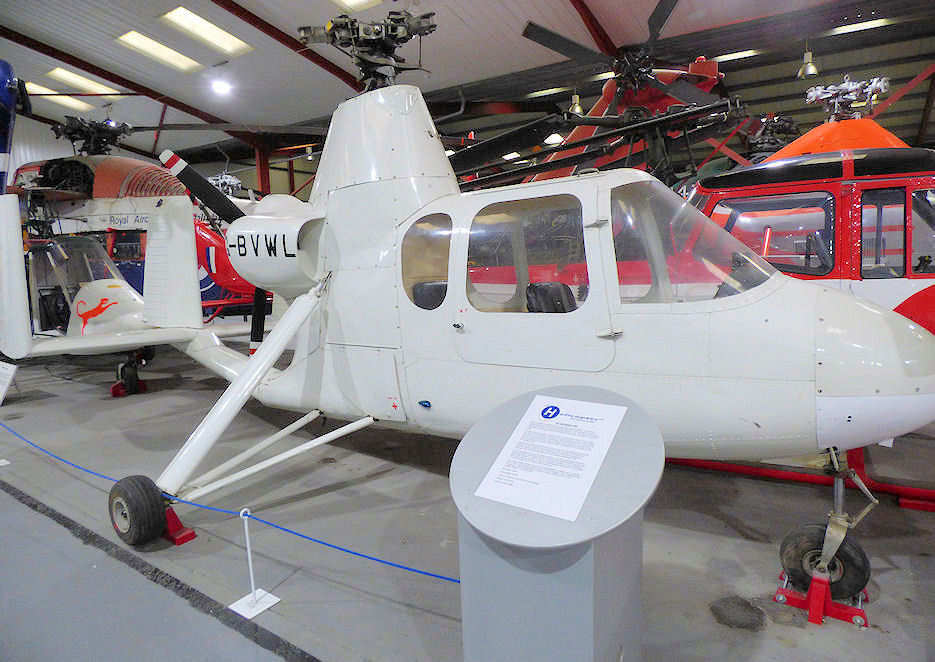 Registration: G-BVWL / SE-HIE
Country of origin: USA
Built: Muncia, Indiana 1966
Manufacturer: Air & Space
Constructor's Number: 23224
Engine: One 180hp Lycoming 0-360-A1D engine

Type: 2 seat gyroplane

Note: Initially marketed as the 'Flymobil' around 68 were built. This one was one of last completed, and was delivered to a Swedish buyer before being sold in Scotland.

Details: Efforts to develop a successful two-seat autogyro that would be suitable for private and commercial use, including law enforement operations, have been ongoing ever since the 1930s, when the Cierva C-30A was moderately sucessful. In the 1950s Raymond Umbaugh, a manufacturer of agricultural fertiliser founded the Umbaugh Aircraft Corporation to Pursue the dream.

His initial tandem-seat design, by Gilbert De Vore, was completed in 1958. The rotor system was based on the Omega BS-12 helicopter with a jump take-off mechanism to allow a vertical leap into the air, before transition to forward flight. This was achieved by a drive shaft spinning the rotor to approximately 370rpm, when all the power was switched to the propeller and the freewheeling rotor pitch increased to achieve takeoff. Designated the U-17, the prototype first flew in August 1959.

Initial tests showed some instability and a second aircraft, the U-18, was built with revised tail surfaces. This was followed by a five development aircraft, built under subcontract by the Fairchild Corporation as the 'Flymobil'. A US Certificate of Airworthiness was granted in September 1961 but production problems led to the collapse of Umbaugh in 1962.

In 1964, the deign was revived by a dealer consortium under the Air and Space Corporation title and production re-established at Muncie, Indiana with the revised Model 18A. By late 1965 68 had been delivered to customers, with 14 more nearing completion, but the company then again ran into debt. It closed down in 1966 and, despite several attempts over the next decade to revive the programme, no further production took place.

The aircraft on display, G-BVWL, was one of the last completed and initially sold to a Swedish buyer. In 1964 it was acquired by Whiskey Mike (Aviation) in Kinettles, Forfar, Scotland but was de-registered in 2000 and subsiquently donated for museum display. It arrived at The Helicopter Museum in November 2007.

Performance:
Max Speed: 109mph
Empty Weight: 1315lbs
Power: 1x 180hp Lycoming 0-360-A1D Piston Engine
Capacity: Two Persons.