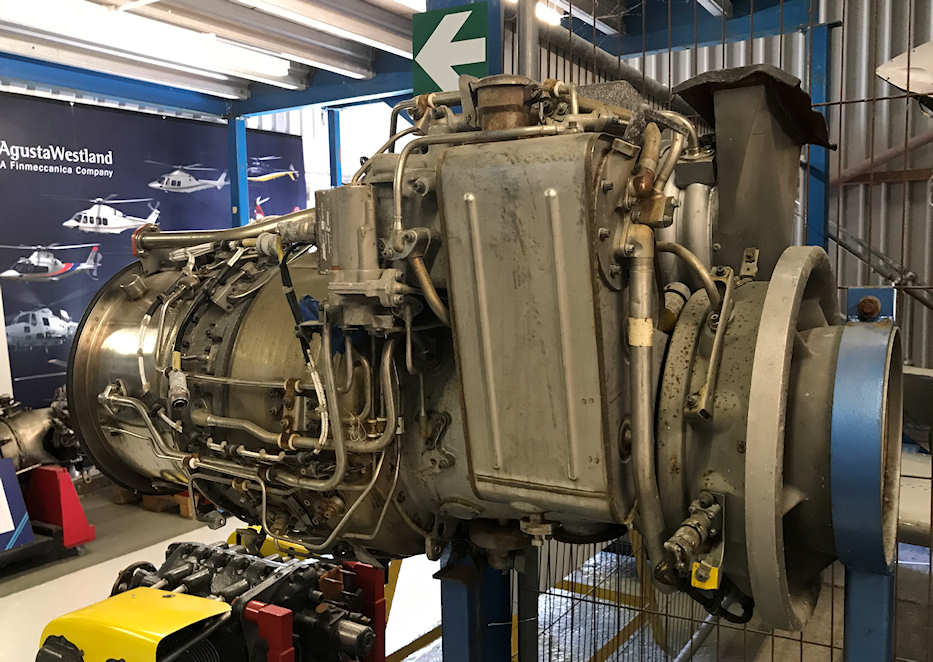 Country of origin: UK
Built: Leavesden, Herts, England, c. 1980
Manufacturer: Rolls Royce Engines
Engine: 1,135 shp 5 stage axial, 1 stage centrifugal, 2 stage gas generator and 2 stage power turbine

Type: Turboshaft engine

Note: Used in Westland Lynx 3 and WG-30 helicopters.

Details: The Rolls-Royce Gem is a turboshaft engine that was developed specifically for the Westland Lynx helicopter. The design started off at de Havilland and was passed to Bristol Siddeley as the BS.360. When Rolls-Royce bought out Bristol in 1966, the engine became the Gem RR.360. Gem production was stated in 1970.

The Gem's three-shaft engine configuration is rather unusual for turboshaft/turboprop engines. Basic arrangement is a four-stage axial LP (Low Pressure) compressor, driven by a single stage LP turbine, supercharging a centrifugal HP (High Pressure) compressor, driven by a single stage HP turbine. Power is delivered to the load via a third shaft, connected to a two-stage free (power) turbine. A reverse flow combustor is featured

The initial 900 shp Gem has been developed since 1972 for various marks of Lynx helicopter through to the Gem 40 (RR1004), the 1,135 shp Gem 41 used in the WG-30, and the 1,260 shp Gem 60s used in the Lynx 3 and the G-Lynx World speed record holder.

A Lynx 3 and several WG-30 helicopters can be seen here at The Helicopter Museum.