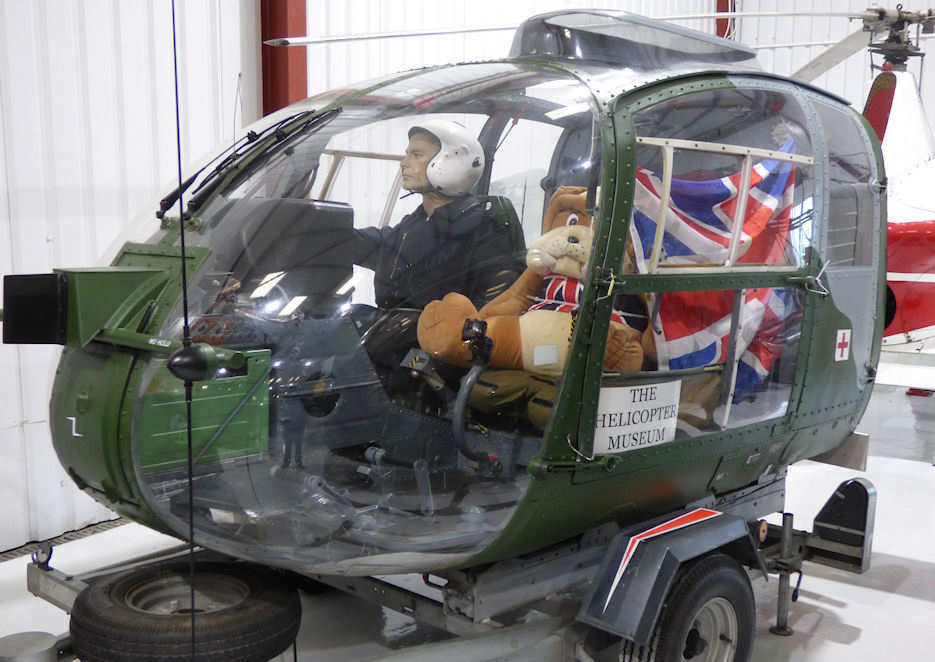 Registration: ZB686
Country of origin: UK
Built: Weston-super-Mare,UK, 1983
Manufacturer: Aerospatiale
Constructor's Number: 995
Engine: One 590shp Turbomeca Astazou turboshaft engine

Type: 4/5 seat Army observation/transport helicopter

Note: Gazelles have served with British Forces since 1974. This cockpit is from a Gazelle assembled here at Weston-super-Mare.

Details: In 1966 Sud Aviation (later Aerospatiale) began working on a light observation helicopter to replace its Alouette II with seating for five people. The first Gazelle prototype SA 340 flew on 7 April 1967. It initially flew with a conventional tail rotor but the tail was replaced in early 1968 with the distinctive fenestron tail.

On 13 May 1967 a Gazelle achieved two separate world speed records on a closed course, achieving speeds of 307 km/h over 3 kilometres and 292 km/h over 100 kilometres.

In February 1967 an agreement between Aerospatiale and Westland allowed the production in Britain of 292 Gazelles and 48 Aerospatiale Pumas ordered by the British armed forces. In return Aerospatiale was given a work share in the manufacturing programme for the 40 Westland Lynx naval helicopters for the French Navy.

Westland would produce a total of 262 Gazelles of various models, mainly for various branches of the British armed forces. The Gazelle AH-1 entered service with the British Army in 1974 and with the Royal Navy in 1975. During the Falklands War, the Gazelle played a valuable role operating from the flight decks of Royal Navy ships. Under a rapidly performed crash programme specifically for the Falklands conflict, Gazelles were fitted with 68mm SNEB rocket pods and various other optional equipment such as armour plating, flotation gear and folding blade mechanisms. Two Royal Marines Gazelles were shot down on the first day of the landings at San Carlos Water.

The Gazelle has been in service with the UK Army Air Corps since 1974, and also served with the Royal Navy. On 22 July 2016 the UK Ministry of Defence (MoD) announced that the UK Army Air Corps' (AAC) AH-1s would remain in service for a further nine years, taking the Gazelle past its 50th anniversary in UK military service and making it the oldest helicopter in active UK service. The cockpit on display in The Helicopter Museum is from a Gazelle AH-1 built at Weston-super-Mare in 1983.

Performance:
Maximum Take-Off Weight: 3,970 lb
Speed: 142 knots (264 km/ h)
Range: 361 nm (670 km)
Capacity: Seating 5
Powerplant: 1x Turbomeca Astazou turboshaft
Power Rating: 590 shp 442 kW

UK Operations in which the Gazelle has been used include
Op Banner - Northern Ireland 1975
Op Guardian - Kosovo 1999
Op Agila - Rhodesia 1979
Op Granby - Kuwait 1991-92
Op Grapple - Balkans 1993-96
Also served in BAOR, Berlin, Hong Kong, Belize, Canada, Falklands, Iraq, Cyprus.