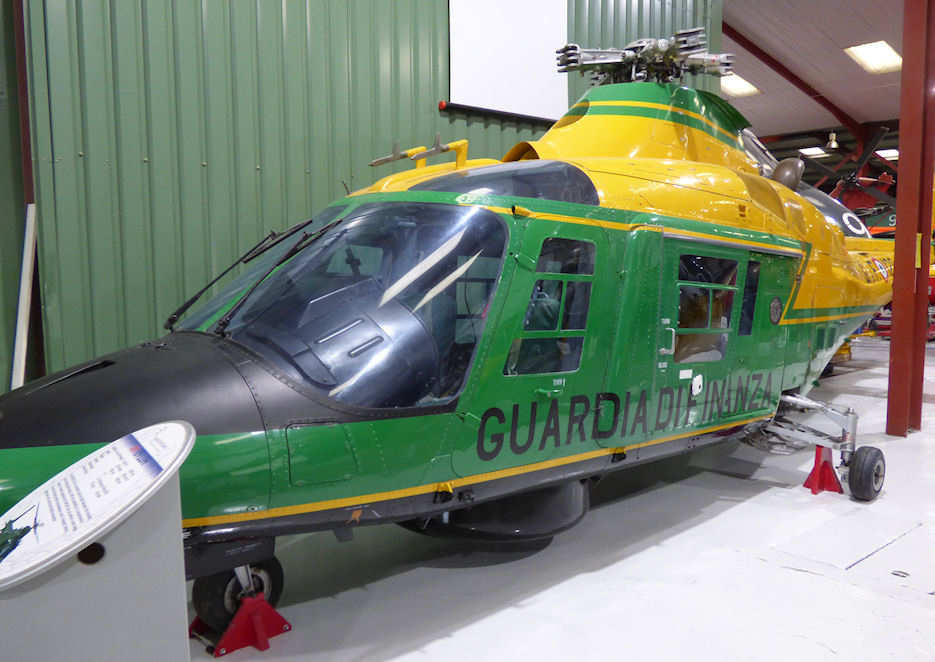 Registration: MM81205
Country of origin: Italy
Built: Cascina Costa, Italy, 1986
Manufacturer: Agusta
Constructor's Number: 7336
Engine: Two 420shp Allison 250-C20B turboshaft engines

Type: 8 seat transport helicopter

Note: This helicopter was operated by the Guardia di Finanza Italian Law enforcement agency dealing with financial crime, border patrol and smuggling.

Details: The A109G is a lightweight, twin-engine, eight-seat multi-purpose helicopter developed and built by the Italian manufacturer Agusta, and subsequently as the AW109 by the Italian/UK company AgustaWestland.

The initial prototype of the basic A109A was first flown on 4th August 1971, at Cascina Costa near Milan. Advantages over the then market-leading Bell 206 Jet Ranger were the A109's superior speed, twin-engine redundancy, and greater seating capacity.

The A109 was powered by two 370shp Allison 250-C14 turbines and, with six passengers, could cruise at 173mph with a range of over 350 miles. Following resonance problems in the early test stages, the second prototype flew on 27th January 1973 and full-scale production started in 1975 with slightly more powerful twin Allison 250-C20B turbines. Initially it was marketed as the 'Hirundo' (Swallow), but this name was only retained for the first two or three years. In 1981 Agusta released the A109A Mark II, with a new tail rotor, an up-rated transmission system and with improved engine mountings to reduce vibration and noise, and 420shp Allison 250-C20 engines. The Mk.II was also made available in wide-body configuration as the A109C, with stronger undercarriage and composite main rotor blades.

More than twenty countries have bought A109 variants which are used in various roles, including transport, medevac, search-and-rescue, and law enforcement roles. Military versions were produced for the Italian army and an anti-tank version for the Belgian Forces.

The A109GdiF is a version with a custom avionics fit, some including surveillance radar, for Italy's Guardia di Finanza, the Italian Law enforcement agency responsible for dealing with financial crime, border patrol and smuggling. GdiF-128, the 5th A109GdiF delivered to the Guardia di Finanza, in 1986, was declared surplus to requirements in June 2010 and withdrawn from use. It was returned to AgustaWestland for storage at Frosinone, S.East of Rome, before arriving at The Helicopter Museum on 6th October 2010.