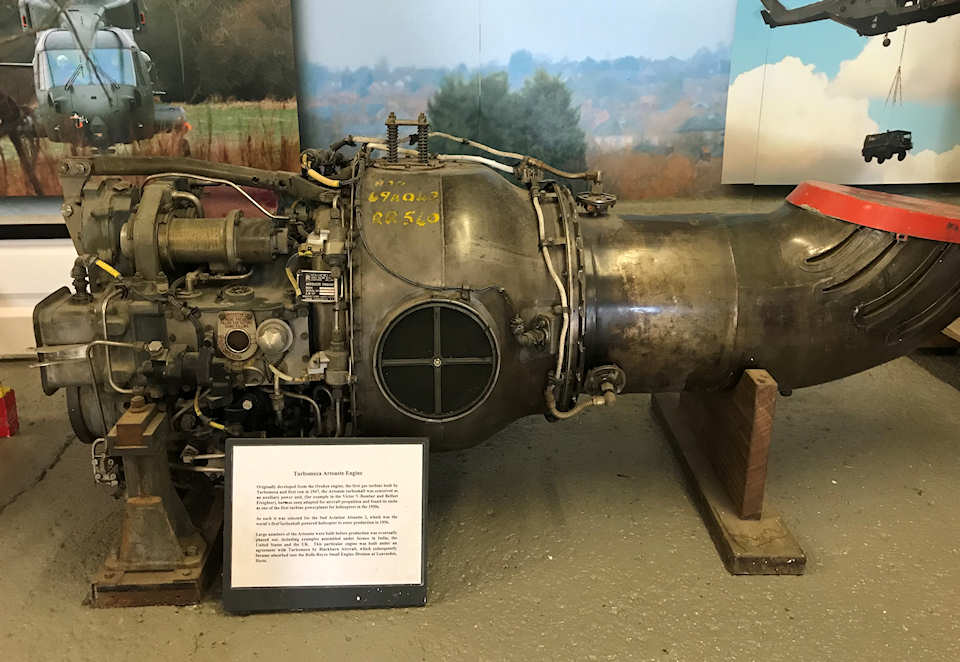 Country of origin: UK
Built: Leavesden, Herts, England, c. 1958
Manufacturer: Turbomeca / Bristol Siddeley Engines
Engine: 400 shp (300 kW) turboshaft engine with 3-stage turbine

Type: Turboshaft engine

Note: Used in Sud Aviation / Aerospatiale Alouette helicopters.

Details: Originally developed from the Oredon engine, the first gas turbine built by Turbomeca and first run in 1947, the Artouste turboshaft was conceived as an auxiliary power unit (for example in the Victor V-Bomber and Belfast Freighter) but was soon adapted for aircraft propulsion and found its niche as one of the first turbine powerplants for helicopters in the late1950s.

It was selected for the Sud Aviation Alouette 2, which was the world's first turboshaft powered helicopter to enter production in 1956.

Large numbers of the Artouste were built before production was eventually phased out, including examples assembled under licence in India, the United States and the UK. This particular engine was built under licence from Turbomeca by Bristol Siddeley Engines at Leavesden, Herts which subsequently became absorbed into the Rolls-Royce Small Engine Division.

An Alouette 2 helicopter is displayed here in The Helicopter Museum.