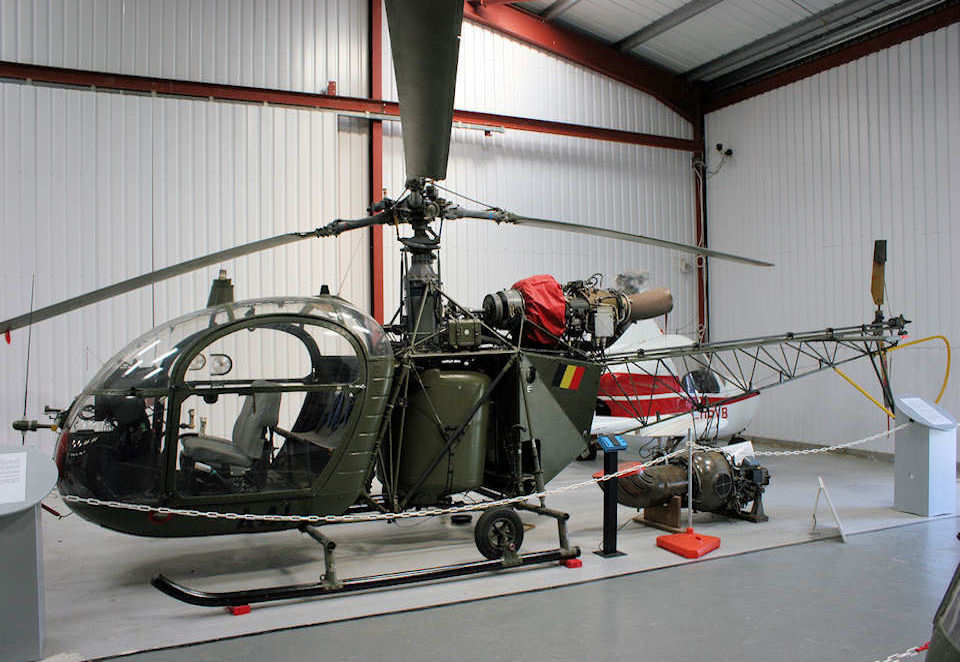 Registration: A-41
Country of origin: France
Built: Marignane, France, 1967
Manufacturer: SuD Aviation
Constructor's Number: 1958
Engine: One 860shp Turbomeca Astazou IIA turboshaft engine

Type: 5 seat light transport helicopter

Note: The first turbine-engined helicopter to enter production and built in various configurations. The SA315B Lama version holds the World altitude record for helicopters at 12,442m (40,820 ft). This SA318C version was operated by the Belgian Army.

Details: Originally developed as a four seat piston-engined helicopter, the Alouette 1 first flew in 1953 but was soon completely redesigned to take advantage of the new turboshaft engine. Pioneered by Joseph Szydlowski, founder of the French company Turbomeca, his new 360shp Artouste engine took advantage of the jet engine principle, adding a shaft to the basic concept to drive the helicopter rotor system.

As the SE130 Alouette 2, the new helicopter first flew on 12 of March 1955 and in 1956 became the first turbine-powered helicopter in the world to enter production. Almost immediately one of the first aircraft carried out the world's first high altitude mountain rescue, evacuating the victim of a heat attack from a 4,000m high plateau in the French Alps on 3rd July 1956

The extra performance available revolutionised the use of the helicopter, particularly in hot countries and mountainous regions and versions of the Alouette 2 were soon setting world records, including an initial altitude record in 1958 of 10,984m (36,131ft).

In 1972 one variant, the SA315B Lama, established a new aboslute altitude record for helicopters of 12,442m (40,820ft) on 21st June 1972. The official record still stands today

In 1961 the SA3180 (later SA318C) variant was introduced with the more powerful Astazou engine and the type continued to be manufactured until 1975. 1324 Alouette 2s were built over the 20 years it was in production. The aircraft on display is an SA318C, built in 1967 and previously operated by the Belgian Army in the reconnaissance, communications, medivac and training role. It was delivered to the Museum on 19th February 2008.