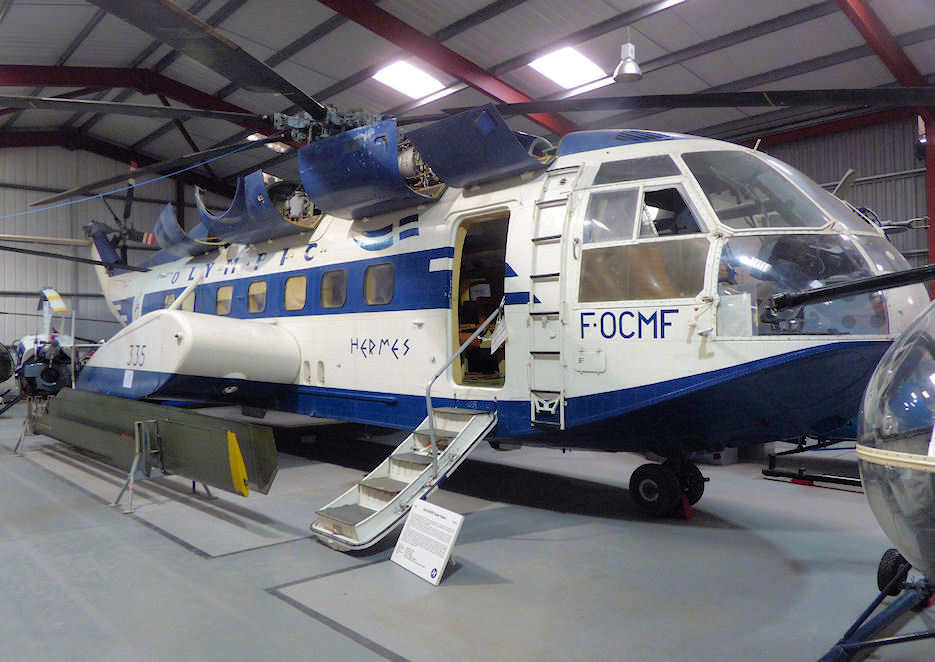 Registration: F-BMHC / F-OCMF
Country of origin: France
Built: Marignane, France, 1967
Manufacturer: SuD Aviation
Constructor's Number: 116
Engine: Three 1550shp Turbomeca Turmo IIIC6 turboshaft engines

Type: 34-37 seat civil transport helicopter

Note: The Super Felon was one of the largest helicopters of its generation. The SA321F variant was an attempt to develop a commercial passenger carrier. Only this one was built and was briefly operated by Olympic Airways carrying passengers to the Greek Islands.

Details: The Super Frelon originated with the former SNCASE (Societe Nationale de Constructions Aeronautiques Sud Est) company, which merged in 1957 with Sud Ouest to form Sud Aviation and subsequently became Aerospatiale in 1969. In the mid-1950s Sud Est began design work on a general purpose transport helicopter for the French military, designated the SE3200 Frelon and powered by three 750 shp Turbomeca Turmo IIIB engines driving a four-bladed main rotor system based on the earlier Sud Est Alouette rotor head. Two Frelon prototypes were built, the first of which flew on 10 June 1959. Gross weight was 7500 kg (16,530 lb).

A decision to scale up the SE3200 resulted in a technical agreement with Sikorsky to design and test a new six-bladed main rotor and five-bladed tail rotor system, with Fiat of Italy taking responsibility for the development of the main gearbox and Sud designing the airframe and other components. The new version, designated the SA3210 Super Frelon, was initially powered by three 1320 shp Turbomeca Turmo IIIC2 turboshafts and the first prototype made its initial flight at Marignane on 7 December 1962. In July 1963 this aircraft set up several World Helicopter Speed records, including 350.47 kph (217.77 mph) over a 15/25 km course.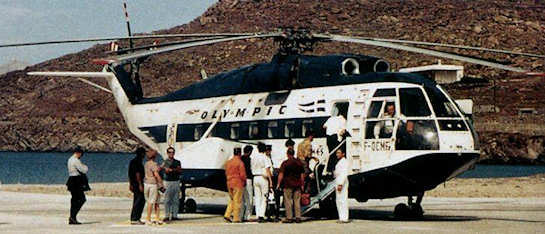 Initial development of the SA3210 was aimed at meeting French Air Force and Army transport needs, and French Navy ASW (anti-submarine warfare) requirements. For the latter the aircraft featured an amphibious hull with a watertight rear-loading ramp and sponson floats. For land-based roles, the floats could be deleted. In the event the French Air Force and Army opted for the smaller SA330 Puma but, in October 1965 the French Navy ordered an initial batch of 17 SA321G Super Frelons, with folding main blades and tail boom. Subsequently the land-based variant was included among military export orders placed by China, Iraq, Israel, Libya and South Africa. The last of 204 Super Frelons built was completed in 1981.

The SA321F variant, held by the museum, was designed in the mid-1960s as a commercial airliner version, carrying 34- 37 passengers in relative comfort over stage lengths of 175 km (108 miles) at a cruising speed of 230 kph 043 mph). To improve performance and provide additional cabin and cargo space, the rear fuselage was extended and aerodynamically streamlined. The flotation sponsons were replaced by large external baggage containers.

F-WMHC was the only SA321F to be built, and was first flown at Marignane on 7 April 1967. Type Certification was granted by the French Civil Aviation Authority on 27 June 1968, followed by American FAA certification on 29 August 1968. Meanwhile the SA321F went on a summer lease from 7 July 1968 to Olympic Airways for operations between the Greek mainland and various offshore islands. The exercise was repeated during the summer of 1969 but did not result in any production orders, the SA321F being considered as too short on range and expensive to operate.

With no long term commercial future, F-WMHC was relegated to a pilot training role at Marignane for a time but was eventually withdrawn from use and placed in storage. The Certificate of Airworthiness was withdrawn in April 1979, but the aircraft remained at Marignane until September 1991 when it was donated to the Helicopter Museum. Moving the 19.4 m (63 ft 8 in) long and 4.94 m (16ft 2 in) high helicopter to the UK was a major undertaking.

Total flying hours: Approx 2800 hrs.

Performance:
Max Speed 230 kph (143 mph)
Empty Weight: 6,863 kg (15,130 lb)
Range: 175 km (108 miles)
Capacity/Load: 2 crew plus 34-37 passengers
Power: 3x 750 shp Turbomeca IIIC-3 turboshaft engines