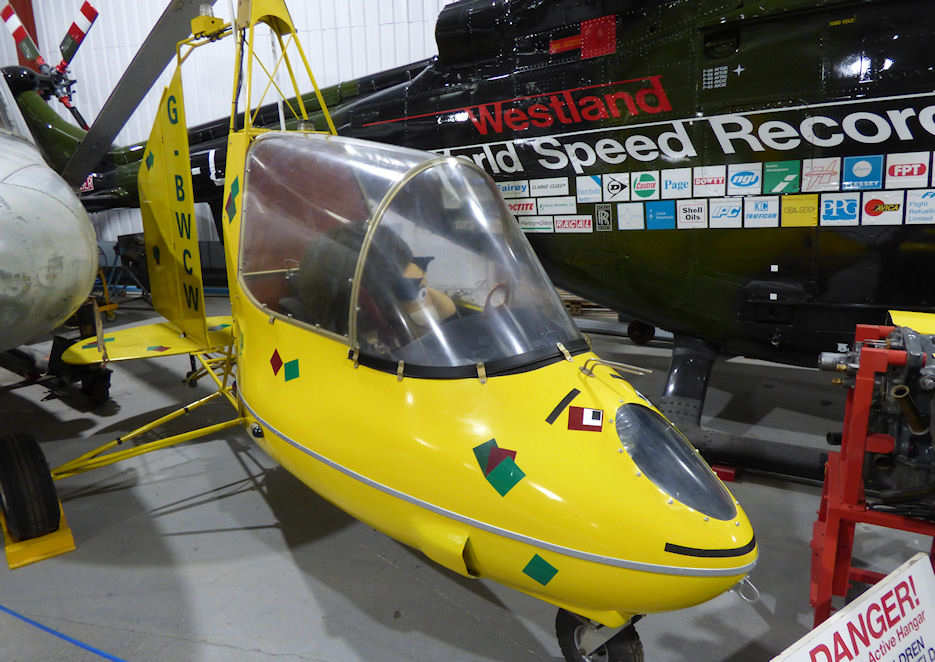 Registration: G-BWCW
Country of origin: USA
Built: Kit-built Chandlers Ford, UK, 1995
Manufacturer: Barnet
Constructor's Number: G/14-1256
Engine: One 100hp Continental 0.200 engine

Type: Single seat kit-built gyroplane

Note: Assembled from a kit using original Barnett Rotorcraft plans. It was found after 10 years abandoned in long grass at a farm airstrip before restoration by the Helicopter Museum.

Details: Built 1995 at Chandlers Ford, Hants, constructor's number G/14-1256. Single seat personal autogyro powered by one 115hp Lycoming 0-235 piston engine.

The Barnett autogyro (or Gyroplane and Gyrocopter as such personal machines were popularly described) was developed by Jerry Barnett in Olivehurst, California during the 1960s. Barnett was looking to improve on the basic Bensen-style gyrocopter of the day, increasing range and performance and improving safety. He established the Barnett Rotorcraft Company in 1962 to market his design for home kit building by customers and began with the J1, which featured a welded open airframe and evolved into the similar J2 with a 40hp Volkswagen engine driving the pusher airscrew. In turn this led to the J3m with an open cockpit with fabric covered sides.

For his next improvement Barnett developed the fibreglass body shell with an enclosed cockpit and introduced the more powerful 100hp Continental 0-200 powerplant with a 7m diameter rotor. The design was also distinctive for its tall fin unit. In its single-seat layout this was designated the J4B, which first flew on 15 July 1968. A two-seat version, the J4B-2 was also made available and one of these broke the US coast-to-coast record in 1989, flown by Howard Merkel. Further versions were designated the J4B-2T as a two-seat trainer which became the BRC 540 Coupe after the 8th production example.

A typical J4B had a gross weight on 400kg (880lb) and an empty weight of 240kg (530lb) so could carry a useful payload and achieve speeds of up to 200km/h (125mph). At least 222 kits were sold over the following years, although inevitably it is impossible to establish how many were actually completed and flown.

The J4B in the Helicopter Museum's collection was purchased as a kit and assembled by Stephen Kirkby of Chandlers Ford, Eastleigh in Hampshire in 1995, using original Barnett Rotorcraft plans and intended to be flown under a Permit to Fly. It was registered with the Civil Aviation Authority on 5 May 1995.

Having completed construction at his home, including the installation of a 115hp Lycoming 0-235 piston engine, Kirkby relocated the aircraft to Farley Farm airstrip, near Hursley, where it was ground run but never flown. Subsequently the powerplant was removed and sold on. The registration was cancelled on 3 March 2005 as 'permanently withdrawn from use', by which time the airframe had been apparently abandoned and left to languish in the long grass (literally) at the strip. 10 years later, the airframe came to the notice of The Helicopter Museum and, following discussions with the airfield owner, was donated and transported to Weston-super-Mare on 28 October 2015 for restoration and display. This required the manufacture of some key missing components and the acquisition of an engine and airscrew, sadly still unresolved.