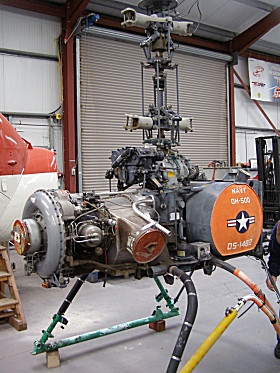 Gyrodyne QH-50D, c/n DS-1482
Gyrodyne QH-50D DASH (Drone Anti-Submarine Helicopter), c/n DS-1482, was delivered to The Museum on 2nd October 2014 after transport by road from Liverpool Docks where it had arrived on 22 September 2014 after shipment from the port of Long Beach, California. Crating for shipment had been carried out by the Robinson Helicopter Company at their nearby Torrance facility.

This unmanned, radio-controlled, surveillance and anti-submarine helicopter, with coaxial, contra-rotating rotors, built in mid-1966, was one of more than 800 produced, in different versions, by the Gyrodyne Company in St.James, Long Island, New York.

DS-1482 was assigned to the United States Navy and went to sea on a WW2 destroyer which had been modernised to provide improved sonar, a small flight deck and a hangar for two drones. Transferred to the US Army in 1974 it was eventually acquired by a private individual for his collection. Years later it was spotted near Bakersfield, California, and subsequent negotiation resulted in it being sold to The Helicopter Museum in 2013.