Eurocopter has donated an example of one of the world's more widely-used turbine aircraft, the Model SA365N Dauphin 2, F-WQAP, powered by two 710shp Turbomeca Arriel 1C turboshaft engines, to The Helicopter Museum. On 2nd April 2003 a low-loader arrived at The Museum carrying the helicopter after a 5-day journey from its former home at Eurocopter's Marignane headquarters in France. It was unloaded by crane and is now on display in the main Exhibition Hangar. This version of the Dauphin family is fitted with retractable, tricycle, landing gear, a composite rotorhead and a longer cabin, while retaining the characteristic, noise-reducing, Fenestron ducted tail rotor.
On 5th April 2003, three days after its delivery to The Museum, F-WQAP (above left) had the four main rotor blades bolted to the rotor head, the top of the rudder attached, and the stabilator (all-moving horizontal stabiliser), re-installed with its twin fins. Above right is a view of F-WQAP's instrument panel.
F-WQAP began life as F-WZJJ, c/n 6001, and was Aérospatiale's first production SA365N, Dauphin 2, built at Marignane and making its first flight on 19th December 1979.

On 6th and 8th February 1980, piloted by Bernard Pasqet and Max Jot, with Michel Sudre as flight engineer and carrying seven passengers, F-WZJJ set up three world speed records for helicopter flights between the Paris and London city heliports. FAI figures were 321.91 km/hr for the Paris to London leg, 281.05 km/hr for London to Paris and 294.26 km/hr for a non-stop round trip. It was powered by two Turbomeca Arriel 1C turboshafts, each of 710 shp.
Following the Paris to London flight, after landing at Battersea Heliport on the Thames, Bernard Pasquet handed a baguette to the Royal Aero Club official, Carolyn Adams, telling her that it had been bought little over one hour earlier in Place Balard, just down the road from the Paris Heliport.
Twenty-seven years later the three records still stand. The previous records had been set up, exactly one month earlier, by Bristow Helicopters' Sikorsky S-76A, G-BHBF.
The flights were intended, not only to achieve the speed records but also to demonstrate the possibilities of high speed passenger travel, by helicopter, between city centres.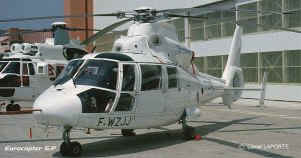 Originally registered as F-WZJJ, at Marignane in 1990, while taking part in fly-by-wire trials, evaluation and demonstrations.
Photograph © Lionel Laporte
After setting up its speed records the Dauphin was used for a series of certification tests including hot and cold weather trials.
In 1989 F-WZJJ was modified, at Aérospatiale's facility at Marignane, near Marseilles, to allow the evaluation and demonstration of a fly-by-wire system which, in 1990, also involved trials of a lateral sidestick control for the right hand seat, additional to the computers, electronic connections and actuators. Experience gained with F-WZJJ led to later FBW implementation, by Eurocopter, in NH Industries' multirole NH90, the first FBW helicopter to go into production.

Following the fly-by-wire evaluations, with F-WZJJ, new active horizontal stabiliser and rudder assemblies were developed which gave improved directional control and allowed the tail rotor power to be reduced in forward flight, leading to an increased payload. In 1992 Aérospatiale became part of Eurocopter and the Dauphin was re-registered as F-WQAP, making its last flight in March 2001. It remained at Marignane, except for a short period in Summer 2001 when it was exhibited outside the Palais de Chaillot (see below) to publicise the Paris Air Show.

Delivery of the Dauphin to The Museum was sponsored by Avia Press Associates and by McAlpine Helicopters Ltd., who were the Aérospatiale civil helicopter distributors in the UK when the speed records were established and remain Eurocopter distributors today.