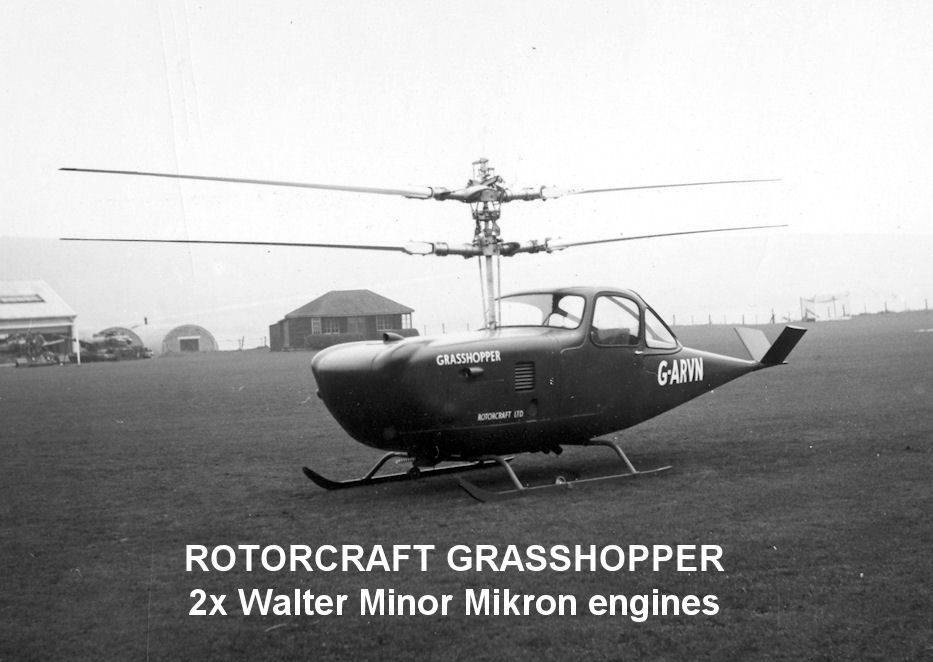 Registration: G-ARVN
Country of origin: UK
Built: Redhill, Surrey, UK, 1962
Manufacturer: Cierva Rotorcraft
Constructor's Number: CR.LTH1
Engine: Two Walter Minor 65hp 4-cylinder piston engines

Type: Prototype 2 seat coxial helicopter

Note: This was the first coaxial helicopter built and flown in Britain. The Grasshopper III version is on display here in the Helicopter Musuem..

Details: The Grasshopper 1 had a fuselage somewhat similar to an enclosed sports car with a small v-tail and a skid undercarriage. It was powered by a pair of 65hp Walter Mikron piston engines mounted in the nose. These drove a pair of two-blade coaxial rotors mounted on a pylon which emerged just ahead of the cockpit windshield. G-ARVN, the only prototype, flew in March 1962.

Rotorcraft Lt became part of Cierva Autogiro Company who continued the development to produce the Cierva CR Twin Grasshopper III, a five-seat utility helicopter that first flew in the UK in 1969. This was powered by two 210 hp Continental IO-360-D engines. The prototype Grasshopper III, G-AWRP, is on display here in The Helicopter Museum.