Wessex 60 History
Westland built sixteen Wessex 60s, based on the RAF's HC.2 model, for Bristow Helicopters, between 1965 and 1975, to replace some of the Widgeons and Whirlwinds in their fleet, which serviced the expanding UK and overseas offshore oil and gas exploration sector.

The seventh Westland Wessex Series 60 to be built, G-AVNE, Con.No. WA/561, a 16 passenger civil transport with twin 1350 shp Rolls-Royce Gnome H1200, Mk.660, turboshaft engines, was delivered to Bristow, at Redhill, in 1967. It was the first long-range Series 60 and, soon after delivery, was despatched to Sunderland, N.E. England, where it operated in support of one of the early offshore oil rigs, 'Glomar IV'.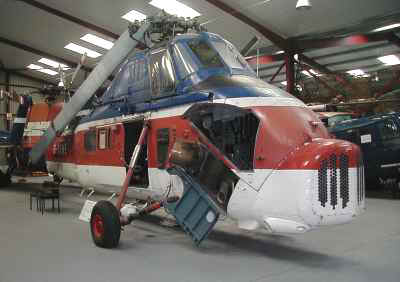 In 1970 G-AVNE was flown out, from the UK, to Kuantan, in Malaysia, and transferred to Bristow's Far East operations, serving successively in Singapore, Indonesia, Australia and then back in Malaysia, each time with appropriate re-registration. It returned to the UK in 1973.
In 1974 G-AVNE was transferred to the Warri base in Nigeria, again to support offshore oil rigs and platforms. It was re-registered as 5N-AJL and remained in Nigeria until 1981 when, following a third and serious accident to a Wessex 60, it was withdrawn from service and returned, via Redhill, to the Westland factory in Weston-super-Mare.

In 1987, after three years in hangar storage at Hurn Airport near Bournemouth, G-AVNE was bought by The Helicopter Museum for outdoor static display at the Museum (right), which, at that time, was sited adjacent to the Westland factory in Weston-super-Mare.