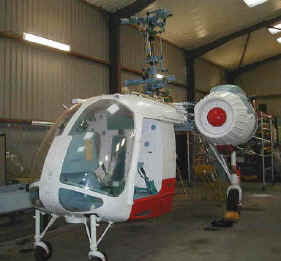 Photographed in March 2002, with restoration at an advanced stage (left), the Kamov Ka-26, D-HOAY/ DDR-SPY/ DM-SPY was built in Russia in 1970. It was used in East Germany, by Interflug, as a light transport as well as for agricultural duties. The Ka-26 was designed to carry interchangeable pods for freight, passengers, chemical spray-bars or a dust-spreader. Alternatively a hook was available for crane work and slung loads.
In addition to the detachable sections carried to the rear of the cockpit, features of the Ka-26 include two contra-rotating co-axial 3-blade glassfibre rotors, two podded radial engines on high-set stub wings, and twin tail booms carrying tailplane, fins and rudders.

There was large scale use of composite materials, aluminium panels sandwiched in glassfibre, in the machine's construction.
About 850 Ka-26 were built. It was the most successful Soviet helicopter to be exported commercially and was bought by at least 15 countries.
Kamov continues as the only company producing helicopters, in quantity, with twin coaxial rotors. In May 2004, they announced that production of thirty of their Ka-226 helicopters had begun. Four of these, from an order for 22, entered service with Gazprom, in 2006, and are employed on pipeline patrol and maintenance duties. Two have been delivered to the Security Services, for border patrol, and a further two have been supplied to the Moscow police.
The Ka-226 is derived from the Ka-26 and has the same modular design, with interchangeable pods and the same easy maintenance and controllability. It benefits from US-built twin Rolls-Royce (Allison) 250-C20-R/2 450hp turboshaft engines along with improved rotors and equipment. Turbomeca's Arrius 2G2 engines are also available in export versions of the Ka-226, known as the Ka-226T.