History of the Fairey Ultra-Light
The Museum's Fairey Ultra Light, G-AOUJ / XJ928, tip-jet helicopter c/n F9424,is one of four prototypes built by Fairey Aviation Ltd in Hayes, Middlesex, in 1954/55, in response to British Army requirements for an air observation platform. XJ928 was the second prototype, making its first flight, from White Waltham, on 20th March 1956.
Just before this first flight the Ministry of Supply decided to withdraw their support, leaving the Army reliant on the contemporary Saunders-Roe Skeeter. Fairey however, continued to build a further two Ultra-Lights as a private venture development.
After the Ministry cancellation, hydraulically powered cyclic controls and a modified cabin were fitted to XJ928 and it was registered G-AOUJ in August 1956. The modified cabin was designed for emergency freight transport and allowed a stretcher to be loaded diagonally alongside the pilot. It flew for the first time with the modifications incorporated, in September 1957.
One or both of the Ultra-Lights, G-AOUJ and G-AOUK, appeared at the SBAC Exhibitions and Displays at Farnborough in the years 1955-58, taking off and landing on a moving Army 3-ton flat bed truck. Spectators were especially impressed by their agility, lively and rapid climb rate and by fast descents in autorotation.
The British Admiralty expressed interest in the ULH as a potential light, frigate-borne, anti-submarine helicopter. Sea trials with an Ultra-Light were conducted in 1958 from HMS Undaunted but, with the Saunders-Roe P.531 prototype (leading to the Westland Wasp), showing promise, Navy interest in the Ultra-Light ended in 1959.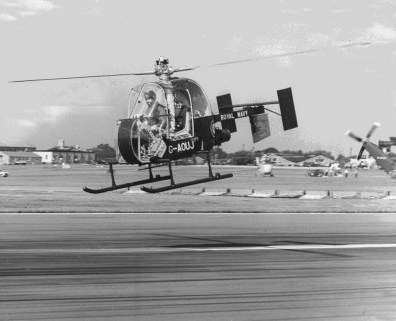 Ultra-Light G-AOUJ, in Royal Navy scheme, displayed at the 1958 Farnborough Show with Fairey test pilot Lt.Cdr John G.P. Morton OBE at the controls. Earlier in 1958 Morton flew trials of G-AOUJ, in Arctic conditions, in Canada.
With no further customer interest, Fairey abandoned the project at the end of 1959. G-AOUJ was partially dismantled, with blades, engine and rotorhead removed, and its registration lapsed. After standing at White Waltham for some time it was sold off for scrap, but was rescued by enthusiast Peter Swettenham, who took the remains to his home on a farm near Harlow in Essex.