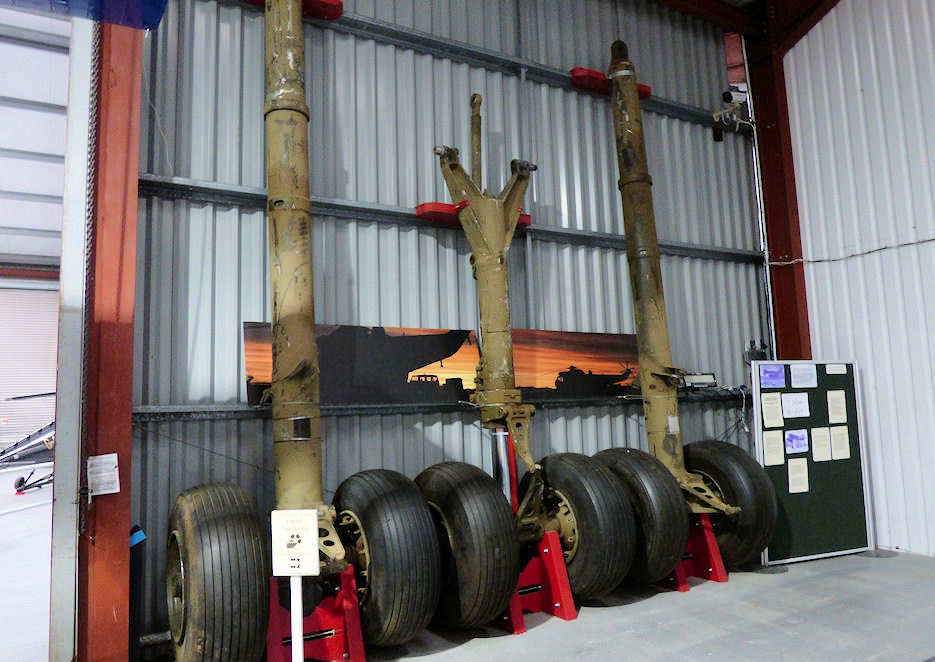 Registration: 73-22012
Country of origin: USA
Built: Philadelphia, 1974
Manufacturer: Boeing Vertol
Engine: Two 8,000 shp Allison XT-701 turboshaft engines

Type: Experimental heavy-lift helicopter

Note: These huge undercarriage legs and wheels came from the US Army's HLH (Heavy Lift Helicopter) 'flying crane' built in 1974 but cancelled before completion..

Details: These wheels are from the largest helicopter ever built outside Russia. The XCH-62 was built for the US Army's HLH (Heavy Lift Helicopter) specification. This 'flying crane' stood 11.8m high and the fuselage was 27m long. It could carry loads of up to 20 tonnes (20,000 kg) slung below the fuselage.

The XCH-62 prototype was a tandem-rotor helicopter powered by three Allison XT701-AD-700 turboshafts, rated at 8000hp each. The diameter of each four-bladed rotor was 28 metres (92 feet). The crew compartment was designed to accommodate a pilot, co-pilot, aft-facing load-controlling crewman and a flight engineer.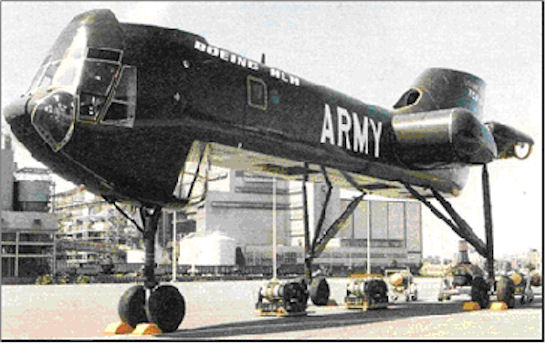 Aft of the crew compartment a short section of the slim fuselage could accommodate 12 troops. The centre fuselage housed two cargo handling hoists. The aft fuselage and pylon area contained the gearboxes and engines. Stub wings contained fuel tanks and also supported the main struts of the fixed tricycle landing gear. The airframe was to be constructed entirely of bonded aluminium honeycomb panels in sizes up to 1.22 metres x 9.76 metres (4ft x 32 ft). The HLH tricycle landing gear was designed to have dual wheels on each leg, differential braking on the main gear only and power steering on the nose wheels. A main fuselage-to-ground clearance of 4.27 metres (14 feet) was provided, although the crew compartment-to-ground clearance was down to 2.9 metres (9.5 feet). The nose gear was re-designed to provide a breakaway path for the nose wheel strut, away from the crew compartment, to improve crash survivability. Conventional materials were used throughout the landing gear structure, rather than advanced composites, to minimise costs.

In August 1975, the programme was terminated when Congress declined to provide funding. The incomplete XCH-62 was mothballed, but pulled out of storage in 1983 when the Army and NASA proposed collaboration to finish the aircraft for experimental flights but Congress again refused to fund the project.

The XCH-62 remained in storage until 1987 when it was decided that it should be placed in the US Army Aviation Museum at Fort Rucker, Alabama. In 2005 it was scrapped having deteriorated badly due to prolonged open air storage. US Army Aviation Museum director Steve Maxham and Helicopter Museum Chairman Elfan Ap Rees were able to save some key components, including both legs of the 5.5 metre (18 feet) long main landing gear and the nose gear, all complete with wheels. These are now on display at here at Weston-super-Mare's Helicopter Museum.