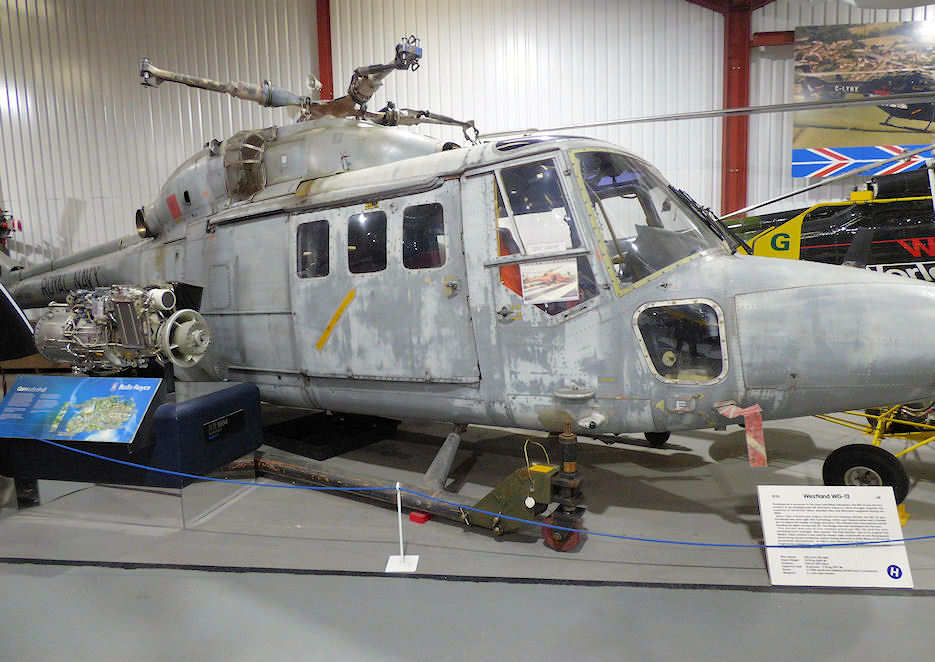 Registration: XW839
Country of origin: UK
Built: Yeovil, England, 1974
Manufacturer: Westland Helicopters
Constructor's Number: 2/09
Engine: Two 900shp Rolls-Royce BS360 (Gem) turboshaft engines

Type: Military utility helicopter

Note: This is the 5th protoype WG-13 / Lynx and the oldest original complete Lynx in existence.

Details: Development of the Westland WG.13 (later the Lynx helicopter) was started in the mid-1960s as a replacement for the Westland Scout and Wasp, and a more advanced alternative to the UH-1 Iroquois. Every effort was made to find a basic formula that would appeal to the greatest number of operators, both military and commercial. As part of the Anglo-French helicopter agreement signed in February 1967, French company Sud Aviation (later Aerospatiale) had a 30 per cent share of production work, Westland performing the remainder.

The first Lynx prototype had its maiden flight on 21 March 1971. The then advanced design was powered by a pair of BS.360 Gem turboshaft engines, the conformal-gear main gearbox gave compactness (with a much shallower powerplant group above the cabin than rival designs) and the four-blade rotor had a semi-rigid hub forged from a single slab of titanium

The British Army eventually ordered over 100 Lynx helicopters under the designation of Lynx AH.1 (Army Helicopter Mark 1) to perform several roles, such as transport, armed escort, anti-tank warfare (with eight TOW missiles), reconnaissance and evacuation missions. The naval variant of the Lynx, known as the Lynx HAS was equipped with a tricycle undercarriage and a deck restraint system, folding main rotor blades, an emergency flotation system and a nose-mounted radar. The second Navy prototype XX910 is also on display here at the Helicopter Museum, as well as G-Lynx the helicopter World Speed record holder. Over 450 Lynx were eventually built.

XW839 was the fifth prototype WG-13 / Lynx. It first flew on 19 June 1974 and was the first to have the slender, longer AH.1 nose and tail boom/pylon. It was used as a weapons test platform to prove the proposed Hawk-swing anti-tank missile system.

By 1980, it had been retired from the test programme and moved to HMS Thunderer, RNEC. It spent a brief time at Filton with Rolls Royce in 1985 until being moved to the fire dump at RNAS Yeovilton in 1995. In 1996, it was moved to The Helicopter Museum where it is displayed in a fairly complete condition but stripped to bare metal. This is the oldest original, complete Lynx in existence.