Registration: XV733
Country of origin: UK
Built: Yeovil, England, 1969
Manufacturer: Westland Helicopters
Constructor's Number: WA628
Engine: Two 1350shp Rolls-Royce Gnome H1200 turboshaft engines

Type: One of only two VVIP Wessex aircraft built for The Queen's Flight.

Note: This was the first helicopter to have flown HM The Queen, and was piloted by Prince Andrew when he came to officially open the Helicopter Museum.

Details: Following the introduction of the twin-engined Wessex HC.Mk.2 to the Royal Air Force in 1963 for troop and cargo transportation, it was decided to complete the last two production aircraft for the exclusive use of The Queen's Flight under the designation HCC Mk.4. The new aircraft provided the critical safety benefit of being able to continue flying on only one engine. This made it the first Queen's Flight helicopter permitted to carry the reigning monarch, rather than being limited to other members of the Royal Family.

This aircraft was the second HCC.Mk.4 delivered to the Queen's Flight at Benson, Oxfordshire in June 1969. Subsequently it is known to have been piloted by HRH, The Duke of Edinburgh, The Prince of Wales and The Duke of York and to have carried HRH, The Princess Anne, Princess Diana, Princess Margaret, The Queen Mother and Princes William and Henry as well as other VVIP State dignitaries. These included King Olav of Norway King Carl XVI Gustav of Sweden, King Juan Carlos of Spain, King Hussein of Jordan and President Mitterand of France.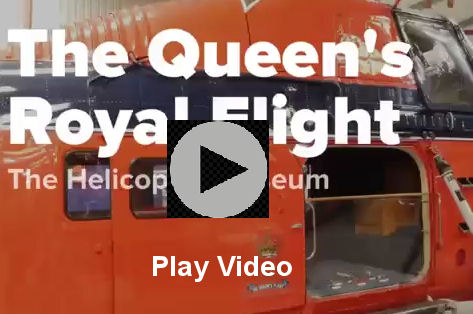 In August 1977 it became the first helicopter to carry The Queen, when it flew her from HMS Antrim to Northern Ireland for a two day visit in her Silver Jubilee Year. Later in June 1991 it was the first helicopter to fly both the Queen and the Duke of Edinburgh together, during another visit to Northern Ireland Meanwhile, in November 1989, XV733 was flown into Weston-super-Mare piloted by Prince Andrew, The Duke of York, when he came to officially open the Helicopter Museum.

Following the disbandment of The Queen's Flight in 1995 XV733 continued its VVIP role with No.32 (The Royal) Squadron at RAF Northolt until 1998 when it was retired and placed in storage. XV733 was purchased at auction by The Helicopter Museum in 2001.

Performance:
Max Speed: 212.43 km/h (132 mph)
Empty Weight: 3783 kg (8340 lb)
Range: 499 km (310 miles)
Capacity/Load: 8 persons
Power: 2 x 1350shp Rolls-Royce Gnome H1200 turboshaft engines