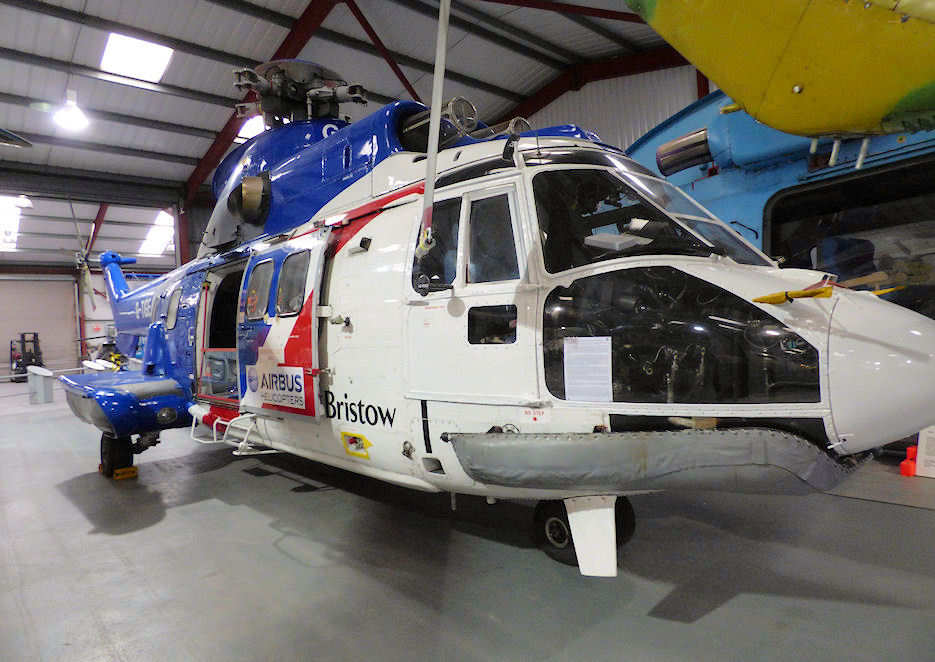 Registration: G-TIGE /G-BJYJ / F-WTNM
Country of origin: France
Built: Marignane, France, 1982
Manufacturer: Aerospatiale
Constructor's Number: 2028
Engine: Two 1742shp Turbomeca Makila 1A1 turboshaft engines

Type: 19 seat transport helicopter

Note: Between 1983 and 2003 this helicopter transported North Sea oil workers to and from the Brae Alpha oil and gas field 155 miles north east of Aberdeen.

Details: The origins of the Super Puma lay in a French Defence Ministry specification, issued in 1962 for a twin-engined tactical transport helicopter capable of all weather operation. Development began in 1963 under the designation SA330 and the first prototype flew on in April 1965. In l967 the aircraft was selected as part of an Anglo-French helicopter agreement, under which development and production would be shared by Sud Aviation and Westland Helicopters. The name Puma was jointly adopted and the aircraft entered service with the Royal Air Force and French Army Air Force (ALAT), with eventual production reaching 679 before ending in 1982

In 1974 Aerospatiale, which succeeded Sud Aviation in 1970, began design work on a growth version, using a Puma fuselage matched with an uprated transmission and two new and more powerful Makila engines. Designated the AS331, this prototype first flew at Marignane on 5th September 1977 and was followed a year later by a more definitive prototype, the AS332 Super Puma. The AS332 further introduced an optional cabin stretch and a strengthened landing gear to allow an increase in payload an increased fuel capacity, an improved main rotor system and revised fin and elevator contours to counter the effect of the lengthened cabin. The first AS332 made its initial flight on 13th September 1978 and was initially followed by five pre-production aircraft including one designated the AS332L. First flown in October 1980 this featured a further cabin stretch to accommodate four extra passengers.

Meanwhile, UK offshore transport operator Bristow Helicopters was discussing a variant for its long range oil and gas transport operations. This introduced a large rear baggage compartment, enlarged cabin windows, in-flight music entertainment, foldable passenger seats, automatic emergency door jettison and large capacity life-rafts. Bristow also subsequently introduced a Health and Usage Monitoring System (HUMS) on the aircraft developed in partnership with Plessey/GEC Marconi and allowing engineers back at base to analyse and identify potential failures in the engine, gearboxes, rotorheads etc. HUMS later became an industry standard for commercial helicopters.

On 31st December 1980 Bristow ordered 35 of the bespoke aircraft, named the variant the Bristow Tiger, and took up almost all of the initial production slots as a condition of the purchase. The order represented the biggest ever placed by a commercial operator and the first AS332L export order for Aerospatiale. Deliveries of the Tiger began in March 1982 with G-TIGB; subsequent Tiger deliveries took up all the registrations from G-TIGC through -TIGGZ.

The aircraft in the museum collection, G-TlGE was the fourth Tiger, delivered to Bristow on 19th May 1982 but initially ferried to Erith in Kent for fitting out by Metair. Transferred to Bristow and christened 'City of Dundee' it then entered service at Aberdeen

By August 1983 G-TIGE was carrying out three trips daily to the Brae Alpha oil and gas field 249km (155 miles) north east of Aberdeen under a contract with Marathon Oil. Over the next 30 years G-TIGE logged over 39,500 hours and by the end of 2013 had totalled 41,815 flight hours. All the Bristow Tigers in service were retired in the first half of 2014 and G-TlGE, now flying from Norwich Airport, was grounded at 42,000 hours total flying time, when it would have been due for a major overhaul. Instead it was traded in to Airbus Helicopters and moved on 27 March 2015 by road to Vector Aerospace at their Fleetlands Gosport facility. Subsequently the aircraft was offered to The Helicopter Museum where it arrived on 30th November 2015.