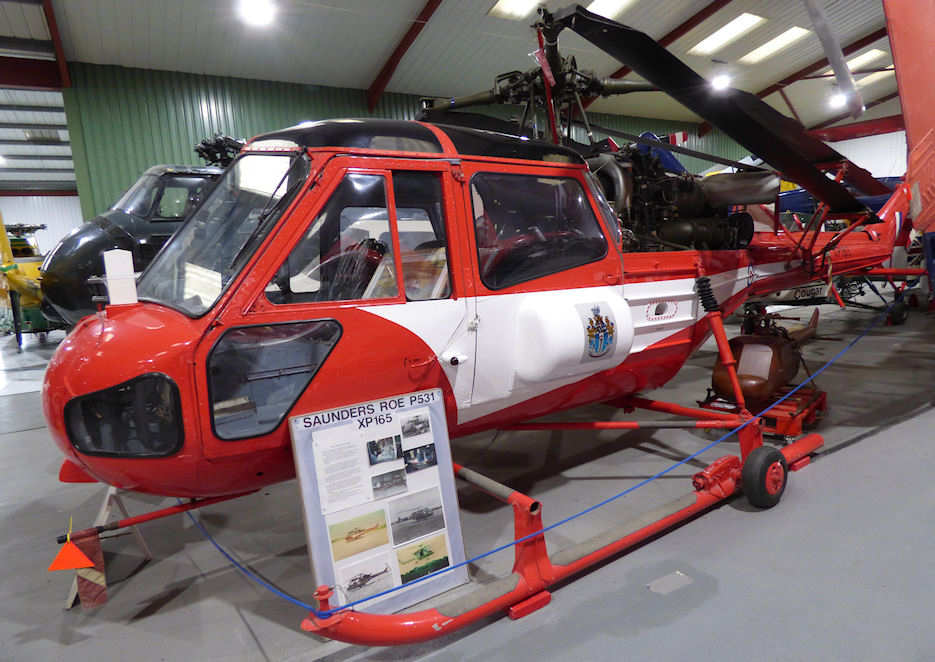 Registration: XP165
Country of origin: UK
Built: Eastleigh, England, 1960
Manufacturer: Westland Helicopters
Constructor's Number: S2/8437
Engine: One 968 shp Blackburn Nimbus turboshaft

Type: Military 4/5 seat transport / scout helicopter

Note: The Scout was developed from the Skeeter and had common components with the naval Wasp. This one is an early example used for trials and later by the Empire Test Pilots School at Boscombe Down.

Details: The Scout was a light helicopter developed from the Saunders-Roe P.531 and Skeeter. It served as a general purpose military helicopter, sharing a common ancestor and numerous components with the naval-orientated Westland Wasp helicopter. The main operator was the British Army Air Corps which operated it in several conflict zones including Northern Ireland and the Falklands War. 154 Scouts were built.

Built by Saunders-Roe and first flown at Eastleigh, Hants, on 4 August 1960, XP165 is generally regarded as the first prototype Scout, although it was preceded by two interim Saro P531-2 prototypes developed from the original P.531. Saunders-Roe was shortly afterwards acquired by Westland Helicopters.

XP165 was initially allocated to manufacturer's trials, including Blackburn (later Bristol Siddeley/Rolls-Royce) Nimbus engine development, and as such was based at Eastleigh, Brough and then White Waltham when Scout development was transferred to the Fairey Division of Westland Helicopters. In August 1963 it was delivered to Yeovil and remained there as a trials installation aircraft until 2 January 1964 when it returned to White Waltham for refurbishing and delivery to the Empire Test Pilots School at RAE Farnborough on 21 April. Here it was initially painted orange overall and coded 5.

It remained based with the ETPS until August 1971 when it was grounded with the RAE apprentices and by March 1973 was semi-derelict and missing various parts including the tailboom. In late 1974 it was transferred to Marconi Avionics at Basildon for ground test installation work and circa July 1975 was passed to the Historic Air Museum at Southend. In January 1983 XP165 was transferred to the Helicopter Museum, following a decision to close down the Historic Air Museum and dispose of the collection. Restoration began in 1990, with the acquisition of various spares and a tailboom.

Performance:
Maximum Take-Off Weight: 5,350 lb (2,427 kg)
Max Speed: 114 knots (221 km/ h)
Range: 275 nm (509 km)
Seating: 4/5
Powerplant 1x Rolls-Royce Nimbus
Power Rating: 685 shp (511 kW)
Period of Service: 1963 to 1994
Number Delivered: 154

OPERATIONS
Op Ale - Borneo 1963-66
Op Nutcracker - Aden/Radfan 1964-67
Op Banner - Northern Ireland 1969-82
Op Agila - Rhodesia 1969
Op Corporate - Falklands 1982
Also served in BAOR (lst Anti-tank ac), Malaya, Singapore, Brunei, Hong Kong, Canada, Trucial States, and Belize.