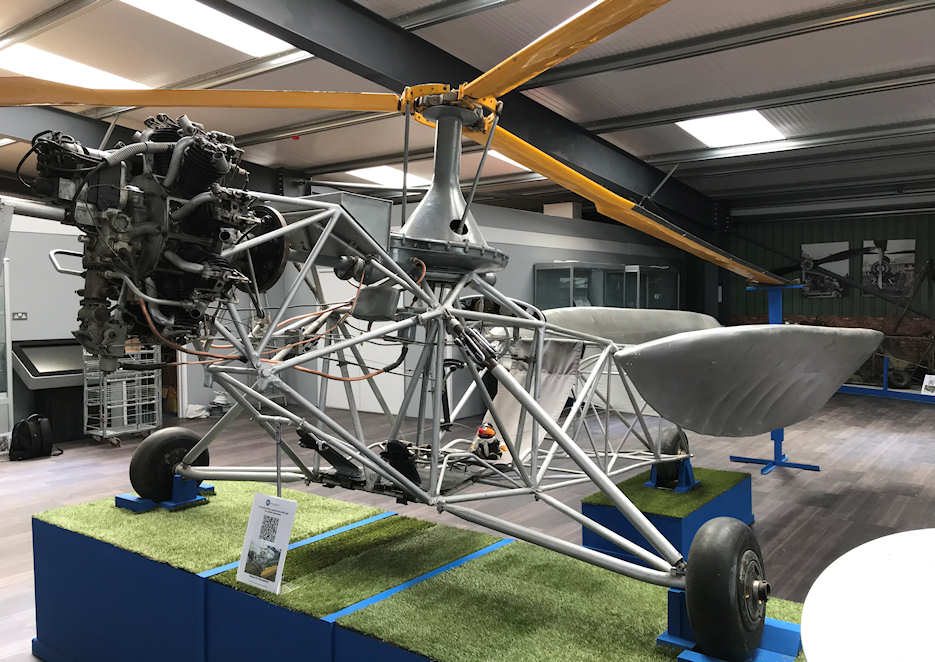 Registration: BAPC 10
Country of origin: Austria
Built: Austria, 1931
Manufacturer: Raoul Hafner
Engine: One 45hp Salmson 9 rotary piston engine

Type: Experimental single seat helicopter

Note: This sole prototype is the world's oldest surviving helicopter. Helicopter pioneer Raoul Hafner became chief designer of Bristol Helicopters here at Weston-super-Mare..

Details: Today the world's oldest surviving helicopter, the Hafner R II design dates back to 1928, when Raoul Hafner put onto paper his ideas for a helicopter at the Technische Hochschule in Vienna.

In conjunction with his business partner Bruno Nagler, and financed to the tune of £10,000 by Major Coates (a Scottish cotton millionaire) construction of the prototype R I got underway in 1929. This helicopter had a 3-bladed low solidity rotor of 9.15m (30ft) diameter and was powered by a 30 hp ABC Scorpion engine. The rotor torque was balanced by two large vanes situated aft of the cockpit in the slip-stream of the rotor. The rotor was rigid (wire-braced), and for control purposes the rotor blades had only one degree of freedom of movement which was in pitch. A large diameter bearing (swash plate) provided collective and cyclic pitch control. It proved difficult to master the large gyroscopic movements in the rotor and only short hops were achieved.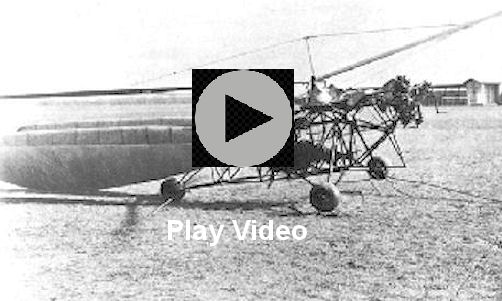 In 1931 the helicopter was rebuilt, using a 40 hp Salmson engine, but otherwise similar to its predecessor with rotor blades shaped from laminated ash sections. This was the R II. Initial tests in Vienna proved little more successful than those with the R I, and in 1932 the team with the R II moved to the UK and Heston Airport in Middlesex. This brought Raoul Hafner in contact with Cierva and his successful 'Autogiro', and as a result the R II rotorhead was modified and new rotor blades with flapping freedom designed and fitted. This improved the control in roll and pitch materially, but the R II was still too under-powered to do more than just hover tied down with the main wheels just inches off the ground and a tendency to overturn due to the torque effect. Nevertheless, in a technical sense, it did 'fly'!

Hafner turned his attention temporarily to autogyros and his R III Autogyro successfully flew at Heston in 1935. It incorporated pitch and cyclic control independently varying the pitch of each blade rather than tilting the hub as in the Cierva. During WW2 he developed the Hafner Rotachute, an unpowered one-man gyroglider to be launched from an aircraft as an alternative to the parachute. This was followed by a rotor-equipped jeep. Neither project progressed past testing. In 1944 he joined the Bristol Aeroplane Company to set up a new helicopter division, the first product of which was the Bristol Sycamore. This was followed by the Hafner family of tandem-rotor designs which culminated in the Belvedere. By this time the Bristol Helicopter Division had moved from Filton to Weston-super-Mare; in 1960 it was taken over by Westland and Hafner became their Technical Director (Research) until his eventual retirement in the early 1970s. He died in a yachting accident in the Bristol Channel on 14 November 1980.

Meanwhile the R II was rediscovered at Weston-super-Mare in a crate in 1961 and was refurbished by Westland apprentices to appear in a local carnival. During this process the original rotor blades were found to be infested by woodworm. One was salvaged for display at the Hafner family home but the other two were thrown onto a local scrap dump. Subsequently they were rescued and put into storage, and both are now on display inside the museum. Following its appearance in the carnival the R II returned to temporary storage but was then loaned to the Shuttleworth Trust at Old Warden Beds, who, finding themselves short of space, sub-loaned the aircraft to the Torbay Aircraft Museum. Here it remained until 1978 when it was spotted by an ex-Westland apprentice Peter Derham who suggested that the R II should return to Weston-super-Mare, where it could be displayed alongside the Sycamore and Belvedere in the embryo Helicopter Museum.

Following discussions with Mr. Hafner and the two museums involved this was agreed in October 1978, but it was not until 20th May 1979 that the R II was finally re-united with its original rotor-blades when it was moved to Weston on temporary display. After Raoul's death in 1980 ownership passed to his widow Eileen, and it was agreed the R II should move to the Museum of Army Flying at Middle Wallop where it could be kept under cover. This continued until 1996 when Eileen officially donated the helicopter to the Helicopter Museum. The Trustees agreed to leave it on loan until June 2000 when the R II finally took up residence here at the Helicopter Museum on a permanent basis.