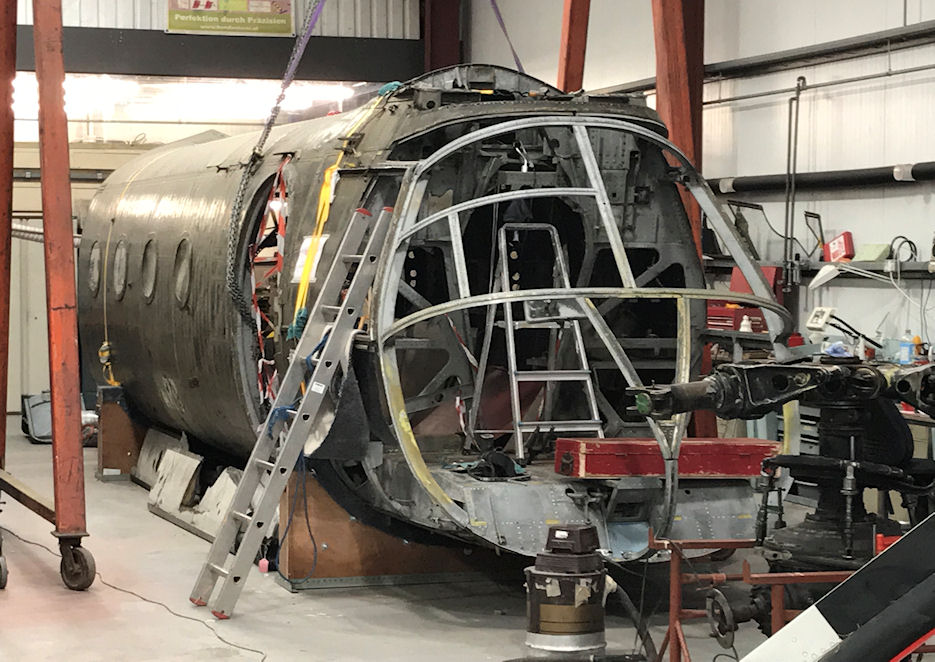 Registration: FR41
Country of origin: USA
Built: Morton, Philadelphia, 1956
Manufacturer: Piasecki Aircraft Corporation
Engine: One 1425 hp Wright R-1820-9 cylinder radial engine

Type: Tactical Transport Helicopter

Note: Known as the 'Flying Banana' due to its kinked shape which kept the rear rotor above the front rotor. The H-21 was used in the early starge of the Vietnam War. This one was used by the French Army in the 1950s Algerian Independence War. Currently under restoration.

Details: The H-21 is a heavy transport helicopter developed by the Piasecki Aircraft Corporation established in 1948 in the United States. In 1960 the company was acquired by Boeing and became its helicopter division specialising in large helicopters. The H-21 can be considered as the ancestor of today's CH-47 Chinook. Officially referred to as the 'Work-horse' it is best known for his nickname the 'Flying Banana' due to its kinked shape with the rear section and rotor above the nose and front rotor.

This helicopter derived from the smaller and lighter HRFLZ made its first flight on 11th April 1952. It broke several altitude and speed records at the time. The H.21 was a military success because of it's of large capacity and reasonable reliability. The main users were the US Army, US Navy, German Army, France (Army and Navy), Japan and Sweden. The Flying Banana was used by the US Army in Vietnam for the delivery of troops in combat, and also by the US Navy for search and rescue missions (SAR Search and Rescue). It was armed with light machine guns firing through the side doors.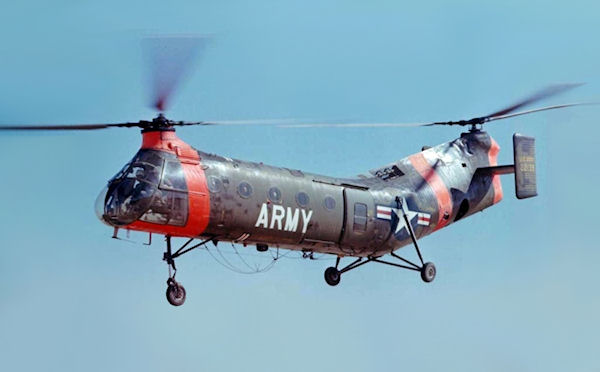 The French Army and Navy obtained 108 H-21C's. The aircraft under restoration in The Helicopter Museum is serial number FR41 code name ARB. It was used in the Algerian Civil War from April 1957 to October 1962 with Helicopter Group N2 based at the Setif Aerodrome. After the war it returned to metropolitan France. Retired on 25th March 1970 with 2713 flight hours 'on the clock', it was used for target practice before it was delivered to Centre d'Etudes et Loisirs Aerospatiaux de Grenoble (CELAG) in 1981 where it was converted as a video projection room. It was transported to The Helicopter Museum at Weston-super-Mare in January 2016.

Restoration started on the forward fuselage in June 2019. The rear section of the fuselage containing the engine, fuel tank and gearbox is currently in storage.

Performance:
Maximum speed: 211 kph (131mph)
Fuselage length: 16m (52.5 ft)
Capacity: 2 pilots + 20 passengers
Maximum lift-off weight: 6810 kg (15013 lbs)
Engine: Single Wright R-1820 - 9 cylinder radial 1425 hp
Production: About 1000 built.