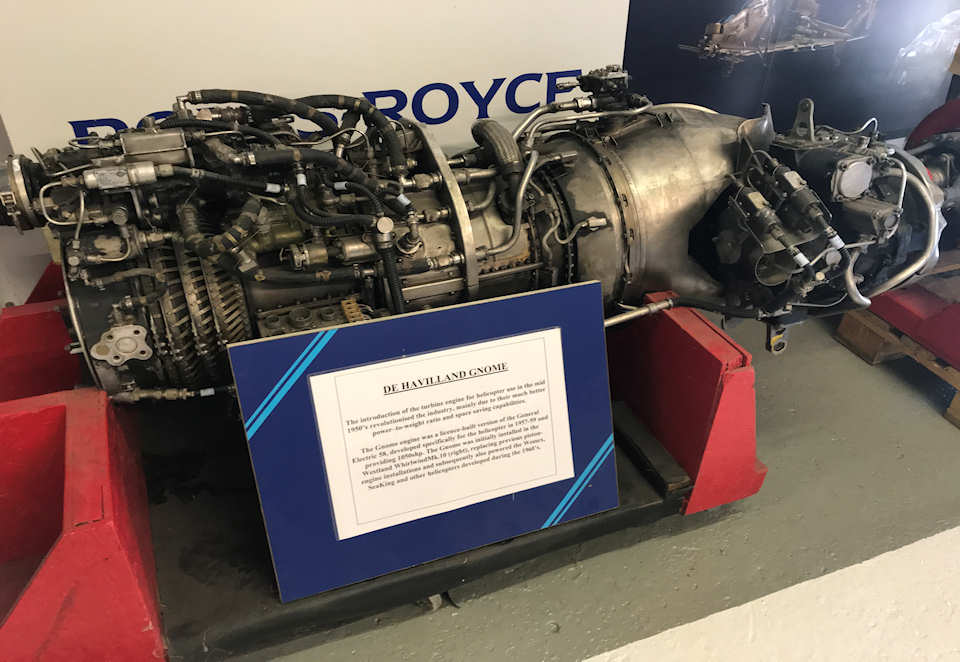 Country of origin: UK
Built: Leavesden, Herts, England, c. 1960
Manufacturer: de Havilland / Bristol Siddeley Engines
Engine: 1,500 shp (1,119 kW) Dual-stage compressor turbine, and one-stage free power turbine

Type: Turboshaft engine

Note: Used in later Westland Whirlwinds, later marks of Wessex and in Sea King helicopters.

Details: The introduction of the turbine engine for helicopter use in the mid 1950's revolutionised the industry, mainly due to their much better power-to-weight ratio and space saving capabilities. The Gnome turboshaft engine was developed by the de Havilland Engine Company as a licence-built General Electric T58 design. Bristol Siddeley absorbed de Havilland Engines in 1961 and then Bristol Siddeley became part of Rolls Royce in 1968. The Gnome has a two-stage compressor turbine, and one-stage free power turbine. The combustor is annular. The Gnome differed from the T-58 in having a British developed Lucas fuel control system.

The Gnome engine was installed in the Westland Whirlwind Mk.l0 replacing previous piston engine installations and subsequently also powered the Wessex, Sea King and other helicopters developed during the 1960's. It was progressively developed by Bristol Siddeley and Rolls Royce from an intial 1,250 shp in the Wessex, to 1,499 shp for the Sea King Mk1, 1,535 shp for the Sea King HAS 2 and 1,660 shp for the Sea King HAS 5.

Examples of Westland Whirlwind and Wessex helicopters can be seen here in The Helicopter Museum.