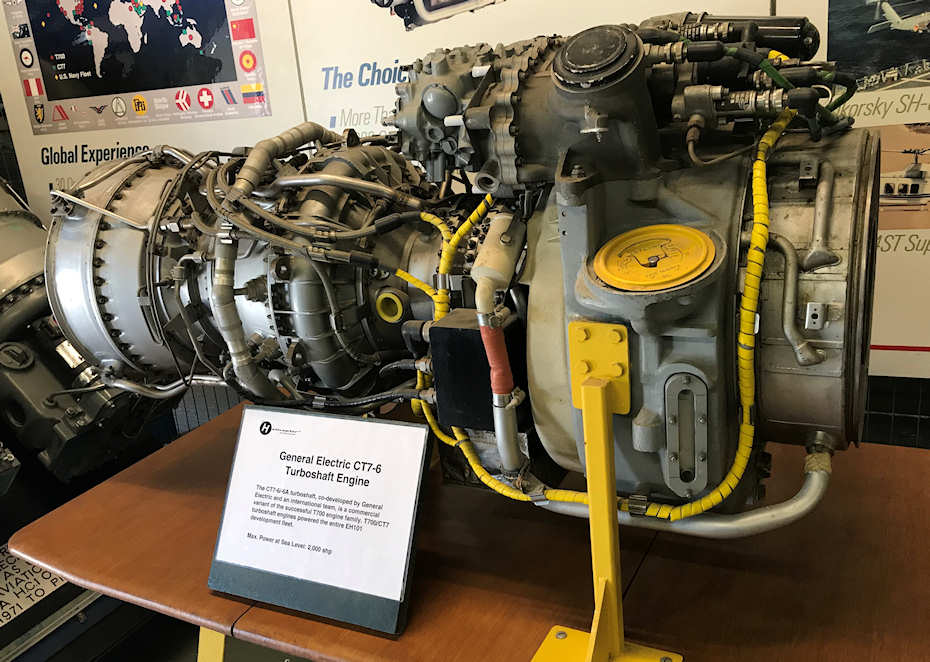 Country of origin: USA
Built: Evendale, Ohio, USA, c. 1988
Manufacturer: General Electric Aviation
Engine: 1920 shp 5 stage axial, 1 stage centrifugal, 2 stage gas generator and 2 stage power turbine

Type: Turboshaft engine

Note: Used in Westland EH101, Sikorsky Black Hawk, Sea Hawk and Boeing Apache helicopters.

Details: The CT7 is from the General Electric T700 series of turboshaft and turboprop engines. Development began in 1970 in response to US Army interest in next-generation utility helicopters and led to Sikorsky S-70 Black Hawk powered by two T700 turboshafts which went into production in 1978. This was followed by uprated versions for the SH-60 Sea Hawk, Bell AH01 SuperCobra and Boeing AH-64 Apache helicopters.

Three 1920 shp CT7-6 powered the EHI / Westland EH101 pre-production helicopters. However the production AgustaWestland AW101, and the Westland AH-64 Apache use Rolls Royce Turbomeca RTM322-10 engines

An EH Industries / Westland EH101 helicopter can be seen here at The Helicopter Museum.