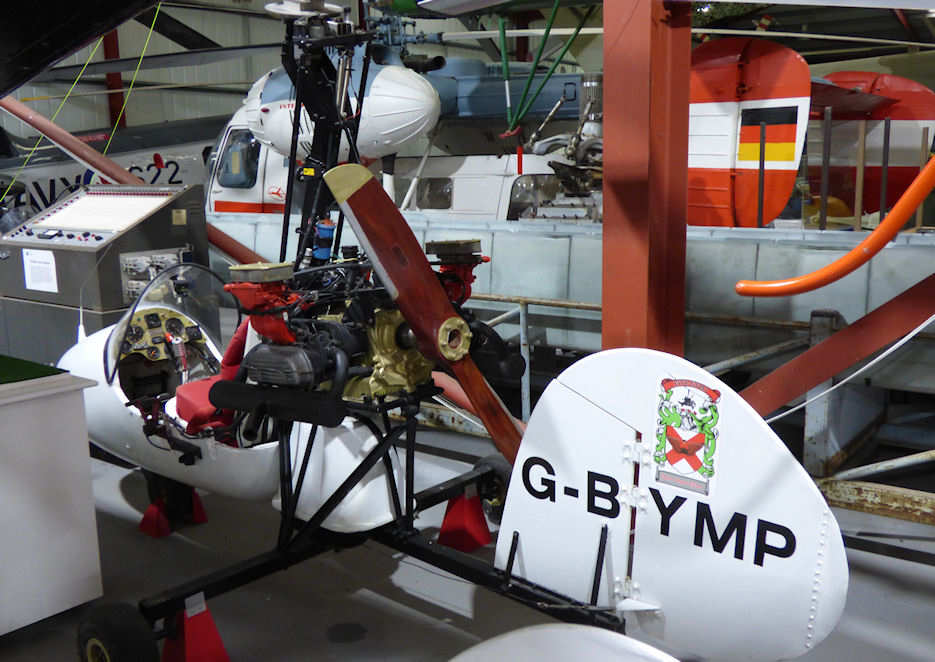 Registration: G-BYMP
Country of origin: UK
Built: Kit-build Newtownwards, UK, 1999
Manufacturer: Campbell Aircraft
Constructor's Number: PFAG/03-1265
Engine: One 75hp Volkswagen 4 piston engine.

Type: Single seat light autogyro

Note: The Cricket was developed in the UK based on the Bensen autogyro.

Details: The Campbell Cricket gyrocopter was developed in the mid 1960s from the original Bensen B-8M single-seat autogyro by enthusiasts Peter Lovegrove and Don Campbell, who had acquired the right to licence-build the US design in the UK.

The Cricket enjoyed a number of improvements, notably the enclosed glassfibre cockpit and the replacement of the original two-stroke powerplant by a modified and more reliable 75hp air-cooled Volkswagen engine. The new variant had a gross weight of 295kg and could cruise at 100kph (62mph) over a distance of up to 290km (180miles) on ordinary 4 star petrol with a consumption of less that 14 litres (3 gall) per hour. Other modifications adopted included stronger engine mounts and metal rotor blades to make the best use of the extra power, a larger fin and rudder to improve control in the air, and direct nose wheel steering to improve control on the ground.

The Campbell Aircraft Company, which began life in a shed in Hungerford, Berkshire assembling 16 B-8Ms for customers, switched to Cricket production in 1969. From the outset most of the components were manufactured by subcontractors, including engines which were built up and modified by Royal Berks Motors in Reading with new twin carburettors and specialised tuning. The rotor blades were manufactured by Permali in Gloucester and the glassfibre nacelles and fuel tanks came from Brealey-Smith in Nottingham. Final assembly was carried out at Membury airfield, Wiltshire

Campbell produced 33 Crickets between 1969 and 1971, beginning with an interim prototype and then a full prototype, which first flew on 7th August 1969. The production run included an early example G-AXRA also on display here at the Helicopter Museum..

The Cricket design enjoyed a revival in 1991 when Lovegrove and a new company, Cricket Gyroplanes, began marketing the aircraft again as a kit build. This led to a run of around 21 kits being sold, including G-BYMP in 1999, which was assembled for James Fitzgerald in Ballywaters, Newtownards in Northern Ireland. The new owner registered it with a permit to fly on 16th June 1999. Subsequently the permit expired and the registration cancelled in January 2011, suggesting lack of use but Fitzgerald re-registered the aircraft in September that year before selling it to Chris Attwood-Codd who moved the Cricket into storage in Cheshire in 2012. G-BYMP was donated to the museum by Attwood-Codd in September 2013 and collected from storage on 16th January 2014.