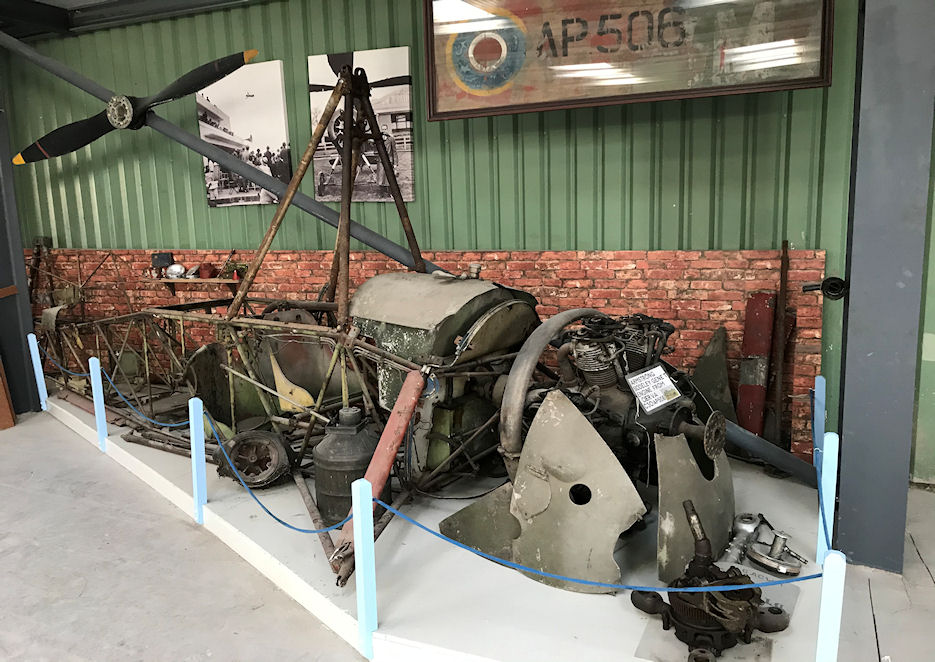 Registration: G-ACWM / AP506
Country of origin: UK
Built: Manchester, UK, 1935
Manufacturer: Cierva Autogiro Company
Constructor's Number: 715
Engine: One 140hp Armstrong Siddeley Genet Major 1A

Type: Two seat autogiro

Note: Remains of one of the the oldest autogiros in existence. Found in a garage near Tewkesbury and displayed in un-restored condition.

Details: This example of the Cierva C-30A Autogiro was discovered in a garage in Gloucestershire. It has been identified as G-ACWM, the 11th production C-30A, built under licence by Avro in early 1935 and granted a Certificate of Airworthiness on 18th April 1935.

The Cierva C.30 Autogiro was designed by Juan de la Cierva and built under licence from the Cierva Autogiro Company by A V Roe & Co Ltd (Avro) at Woodford, Cheshire. The C.30 first flew in April 1933. It had five-cylinder, 105 hp (78 kW) Armstrong Siddeley Genet Major five-cylinder engine, a three-blade 37 ft (11.3 m) rotor mounted on an aft-leaning tripod. The fabric-covered fuselage carried an unbraced tailplane, without elevators but with turned-up tips. The left side of the tailplane had an inverted aerofoil section to counter roll-axis torque produced by the propeller. The wide-track undercarriage had a pair of single, wire-braced legs and a small tail wheel was fitted.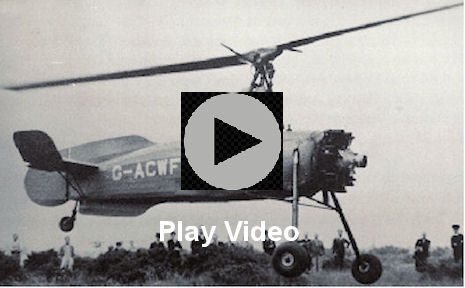 The production model, called the C.30A by Avro, had a four-legged pyramid rotor mounting and a reinforced undercarriage with three struts per side and the more powerful (140 hp, 104 kW) seven-cylinder Armstrong Siddeley Genet Major 1A radial engine. The rotor could be folded rearwards for transport. 143 production C.30s were built, making it by far the most numerous pre-war autogiro.

G-ACWM was initially used by the Autogiro Flying Club at Hanworth before being sold to Mr A. Batchelor of Ramsgate and passed to the Thanet Aero Club in January 1939. On 1st June 1940 it was impressed into military service with No 5 Radio School at Duxford, but still bore its civil registration until September 1940, when it was given the military serial AP506. In February 1941 it was transferred to 74(S) Wing, also at Duxford, and then served with N.1448 Flt (February 1942-15 June 1943) and No.529 Sqdn from June 1943 until 2 June 1945, coded KXA. Much of the wartime work was connected with radar calibration, the autogiro being one of the only aircraft that could fly slowly enough for these early top secret pieces of equipment to be calibrated against.

In June 1945, AP506 was put into storage with 5 MU at Kemble, until put up for disposal in April 1946, when it was sold to Mr H.R. Phillip and re-registered on 23 July. In October 1948 it was sold to Mr P. Chadwich of Canterbury. It was kept in storage between 1949 and 1953 when it was sold to Mr D. Butcher and stored at Shoreham. In February 1964 it was registered to K. Ball (Autobooks Ltd) of Brighton but ownership was retained by Mr Butcher and it was moved to Staverton Airport, Glos, for restoration, later moving to Tewkesbury after being damaged by fire at Staverton, Glos.

It was rediscovered some 20 years later in a private garage near Tewkesbury and purchased privately in 1983. It is hoped to eventually restore the aircraft to a static display condition.