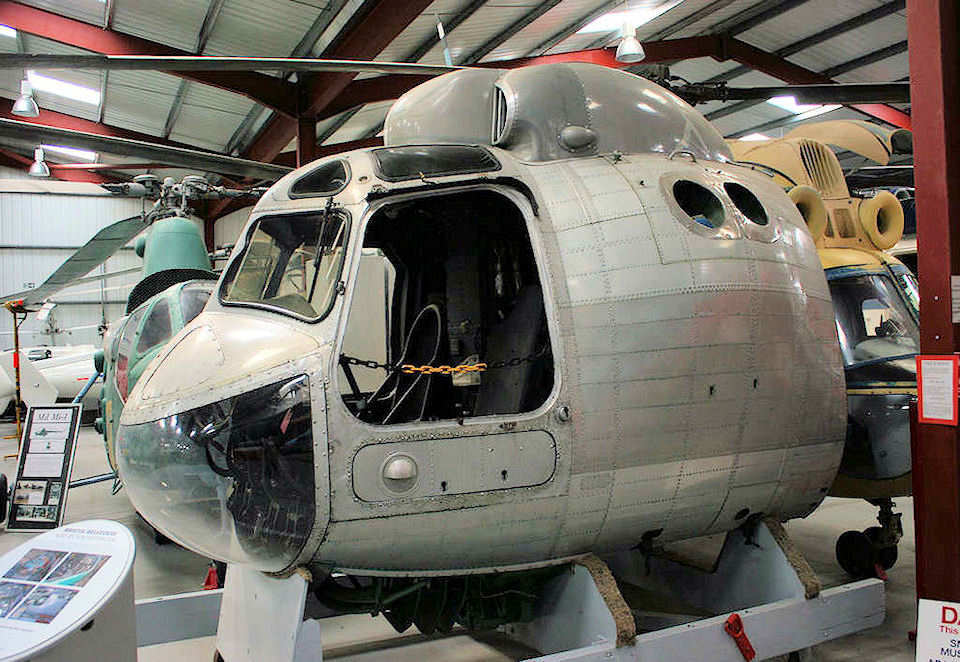 Registration: XG462
Country of origin: UK
Built: Weston-super-Mare, Somerset, UK, 1961
Manufacturer: Bristol Aircraft Helicopter Division
Constructor's Number: 13357
Engine: Two 1,650shp Napier Gazelle 100 turboshaft engines

Type: Heavy-lift transport helicopter

Note: Nose section from a Belvedere that crash landed in the desert in Libya.

Details: The Belvedere tandem-rotor helicopter was developed and built here at Weston-super-Mare, where the prototype first flew on 5th July 1958. The first examples entered service with the Royal Air Force in October 1960 and a total of 26 were eventually built, operating in the UK, Germany, Aden and the Far East on heavy-lift missions in support of the British Army. The fleet was retired in 1969.

This nose section is from the 10th production Belvedere, XG462, which began its service career with No.66 Sqdn at RAF Odiham in September 1961. Later transferred to No. 72 Sqdn, it was written off in an unusual accident whilst on exercise at El Adem in Libya, when pilot confusion resulted in both engines being closed down whilst flying at only 31m (100ft) altitude!

After the forced landing in the desert, fire destroyed the rear half of the aircraft but the front section was recovered to the UK for possible mating with another Belvedere. This had suffered an engine fire, destroying the front half.

In the event this mating was abandoned and the nose section of XG462 was refurbished at Weston-super-Mare to be held as spare.

Following long term storage at Weston and later at RAF Henlow, the nose section was delivered to the museum in September 1989, where it was allocated as a spares source for sister-ship XG452. This is currently under restoration in the museum workshop.

Subsequently the nose section was partially restored in 2004-05 as an exhibit in its own right, being left unpainted to show construction details. A possible second restoration phase envisages the installation of the forward Napier Gazelle turboshaft in the engine bay, and detail completion of the nose section to compliment complete airframes XG452 and XG454 here in The Museum.