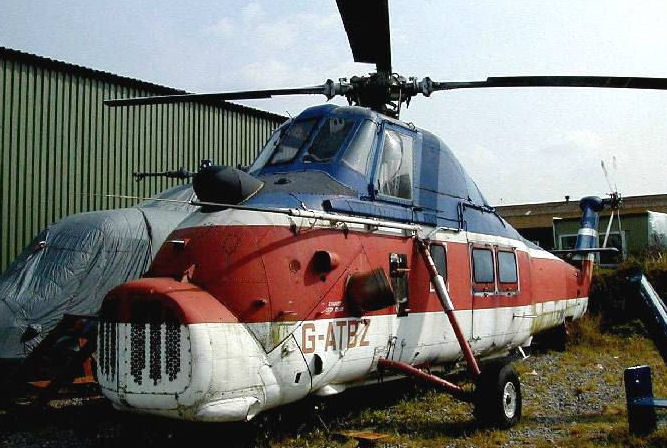 Registration: G-ATBZ
Country of origin: UK
Built: Yeovil, England, 1965
Manufacturer: Westland Helicopters
Constructor's Number: WA/461
Engine: Two Rolls-Royce Gnome Mk.660P 1300shp turbine engines

Type: 16 seat passenger transport helicopter

Note: In 2006 this helicopter was shown mounted inverted as a piece art an Arts Festival in Salzburg, Austria..

Details: Westland Wessex 60, G-ATBZ, Con.No. WA/461, was first registered in March 1965 and operated for a short time with Westland Charters Ltd. Like other Wessex 60s, it was designed as a 16-passenger civil helicopter and powered by two Rolls-Royce Gnome Mk.660P 1300shp turbine engines. Ownership was soon transferred to Bristow Helicopters and the helicopter, later fitted with the large forward air intake debris filter, was used mainly in the offshore oil and gas rig support role in the North Sea area, operating from North Denes through the 1970s.

It was withdrawn from use in 1982 and stored at Hurn from 1984 until 1987 when it was acquired by the Helicopter Museum and transported to Weston-super-Mare for preservation and possible use as a running engine demonstrator.

On 8th April 2006 G-ATBZ, was despatched to Salzburg in Austria, to appear, inverted, on the Residenzplatz. On loan from The Museum, as "A Helicopter in a Public Space", it was Paola Pivi's contribution to Kontracom06, a contemporary arts festival which ran from 12th May until 16th July 2006. The event coincided with celebrations of the 250th anniversary of the birth, in Salzburg, of Wolfgang Amadeus Mozart.

G-ATBZ was first taken, by road, to Wels in Upper Austria. There it was cleaned and repainted, to remove the effects of years of weathering in the open air. On 8th May the over-turning operation was rehearsed successfully and the machine was brought into Salzburg, very early in the morning of 10th May. Using two large mobile cranes it was inverted again and secured to previously prepared anchors, which had been sunk into the paving of the Residenzplatz. The four main rotor blades were then attached to the rotorhead and laid out on the pavement.

Following the end of Kontracom06 the Wessex was transported back to The Helicopter Museum where it arrived and was unloaded on 20th July. The Museum has a restored Wessex Series 60 Reg G-AVNE on display in the Main Collection.